If you were watching Bellator on March 31st, 2023 you may have seen a fighter by the
name of Sara Collins. She was new to the promotion, but not to the fight scene. She fought hard and after a few minutes in the cage she was standing center stage with her arm raised in victory. Before you can understand Collin's potential, it's good to see where she's been. This journey that only a few people take is not easy, and there are many moving pieces on the road to greatness. This is her story.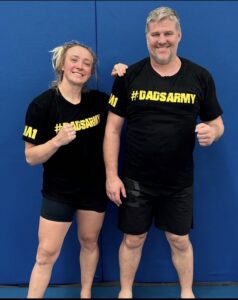 Collin's story begins 10 years ago at "Resilience Training Centre." She has been training and working there since it first opened. This gym provides an atmosphere that she says fits her perfectly. "We don't have any big egos in the gym, just a great bunch of people and good vibes." Support can come from all places, starting from with your coaches all the way to the people who train with you day in and day out. The atmosphere at your gym can shape your path. Collins admires everyone she works with, one person she speaks very highly of is her Coach, Daniel Kelly. "He went to 4 Olympic games and competed in 10 UFC fights, and all this while juggling work and family. He also wasn't young when he started MMA so that inspires me to keep going." Collins began training in Judo and competed in her last match in 2016, when she started transitioning to training MMA. She follows similar footsteps as her coach, who also transitioned from Judo to MMA. "When I finished Judo, I wasn't ready to stop competing all together and MMA just felt like the next step. My coach, Daniel Kelly, went into MMA when he finished Judo so I felt like the pathway was there for me." Her team surrounding her is also a strong foundation in her journey. Following the old adage of "Iron Sharpens Iron" her gym makes each other stronger. "Everyone is there to help and support each other. Even if people don't have fights coming up, we still turn up to training with each other."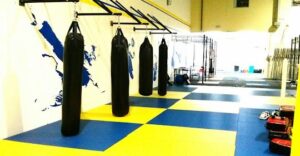 Every gym is different, but the fundamentals do not change. At Resilience Training Centre, it s no different. When asked about which key thing she's learned from her time training there, Collin's responds, "to follow the process. One thing that that is a big mantra in our gym is to just follow the process and everything will work out." What does the process look like for Sara Collins? It is always amazing to peak behind the curtain and see the road taken before entering the cage. "A normal week for me is usually pretty hectic. I work at the gym running CrossFit classes and Alta program [Beginner MMA]." That is only the beginning. "I also am at university studying at the moment. [And] I have all of my
training sessions and recovery that I need to do. So, my normal week is pretty busy!" How
does she maintain the hectic schedule and keep herself focused on a weekly basis? "I
always have a set routine that I follow every week. Having a routine is what helps me stay
motivated and focused. I like to write down everything I must do each day and tick it off as I
go. I like the feeling of ticking things off, like achieving mini goals." Remember, this
workload lasts throughout the course of one week.
Balance is important to keep one grounded. Sara Collins uses Sundays to spend with
her friends and family. She makes sure to relax after a long week. This means no work, no school, and no training. Rest is an important part of our daily lives and she uses this time wisely to prepare for the week ahead.
Her start at Resilience along with all the training she has gone through led her to being
center stage at Bellator MMA. Fighting can take on many shapes and forms in each person.
What does it mean for her to be a fighter? "For me, it means always having a goal
and trying to better myself every single day." She has improved day to day and takes
lessons from each time she is in the cage. Bellator treated her well in her first outing. "The
whole experience was amazing! Bellator looked after me so well, everyone was so nice
and they were so accommodating with everything that I needed." The fight went well, as
mentioned before her hand was raised in victory. Collins was able to secure a scarf
hold armlock submission in just under three minutes. In her four fights as a pro, she has
won two fights by submission and two by decision. Is there something to be taken and
learned from each road to victory? "I think both types of fights give me confidence going
into my next fight" she says. "I know I can go the distance if I need to. I also know that I
have the ability to finish a fight." The lessons stay with her and carry over into her next
challenge. Where does this leave her now? She is now ranked one of the top five women
featherweights in Bellator. "I am still coming to terms with all this being real! I think I have a
bit of imposter syndrome and am trying to get my head around that I belong here."
The future looks bright for Sara. Success can be measured in many ways. For her, the
road is clearly lit. This does not mean the path is easy though. Her definition of
success: "Learning and growing and getting better each fight." There are steps to take to
make this possible and she has a plan. "Just making sure I
follow the process and do everything I can do to better myself. No shortcuts."
When the fights are over, there is life outside of the cage. She found some time to check
out a local California tradition. You may have seen her at In-N-Out Burger with her team for
a post-fight meal. She had seen videos on Instagram for the last three months since she
knew she was going to California. "I got everything "Animal Style" because that's what
everyone suggested. Normally pizza is my go-to after a fight." If you're like me, you
wonder what other sports besides their own athletes like to watch. She does like to watch
other sports as well. "I'm a fan of the Australian Rugby league, I grew up going to the
games every weekend."
Where will the road lead her in the years to come? How does Sara keep motivated?.
For her, it's simple. "When things get hard I just remind myself that I chose to do this, and
that I want to do this." The people around her are an inspiration. She sees how hard
they work and it inspires her to keep moving forward, becoming the best version of herself.
Where does she see herself in the next five years? "Hopefully still fighting for Bellator. A
belt would be nice too."
She gives a shout out to her whole team at Click here: Resilience Training
Centre and click here: The Ring Gym who help her through this journey.