How long have you been involved in boxing? "This is a good question. I think I was born with boxing gloves on. I have been boxing and kicking boxing from a very early age. I have had a lot of success in both. I was 49-1 in kickboxing. I have been in AIBA and professional boxing for over 10 years. I am WIBF and GBU super featherweight champion. My goal is to get more titles in different divisions. I know I can achieve this."
What got you into the sport? "I'm from Sparta, Greece where we all must learn to fight from a young age. My father was a world champion Greco Roman wrestler and champion boxer. I was always very determined. I fought on the street which was never my fault of course haha. My talent was recognized as I fought on the street by my first coach. He took me under his wing and thought me to fight in a controlled manner."
What gym do you train out of? I'm in Las Vegas, training at Mayweather's and DLX gym. I have traveled and trained in gyms in Germany, Romania, Spain, Russia, Great Britain, Greece, and Cyprus. I can't do any of this without my Coach Kenny Adams. I hope to be a champion for him in WBC. I feel so blessed for him to train me. He believes in me. He told me I'm a challenge because he wants big things for me. I'm very dedicated in boxing, but now am only obedient (and believe me this is not easy for me). I trust him a lot and I hope soon to deliver what he wants and all will see a completely different fighter. I respect him a lot and the time he gives to me. He's very wise and I am trying harder than ever before. (We are the same star sign, same date, and as you can imagine we have the same multidimensional personalities. We are both so strong and it's not easy, but we have a little back and forth, but in the end I listen because he has more experience. You don't demand respect, you earn it, and my coach has earned this.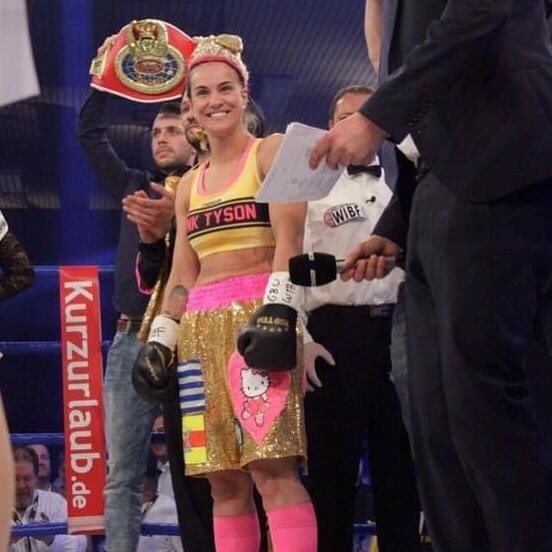 How does your personality fit into the environment you train in? I like your question. I have never been asked this before. Well let me tell you my personality is big and some people can't take a strong woman who won't be talked to like a fool. I am very respected for my dedication. The environment of boxing is very hard for some to deal with. For females especially. I can out work most men haha. I'm brutally honest about most things. I demand respect from boxers and trainers. I train hard but it's important to have a little laughter with each other.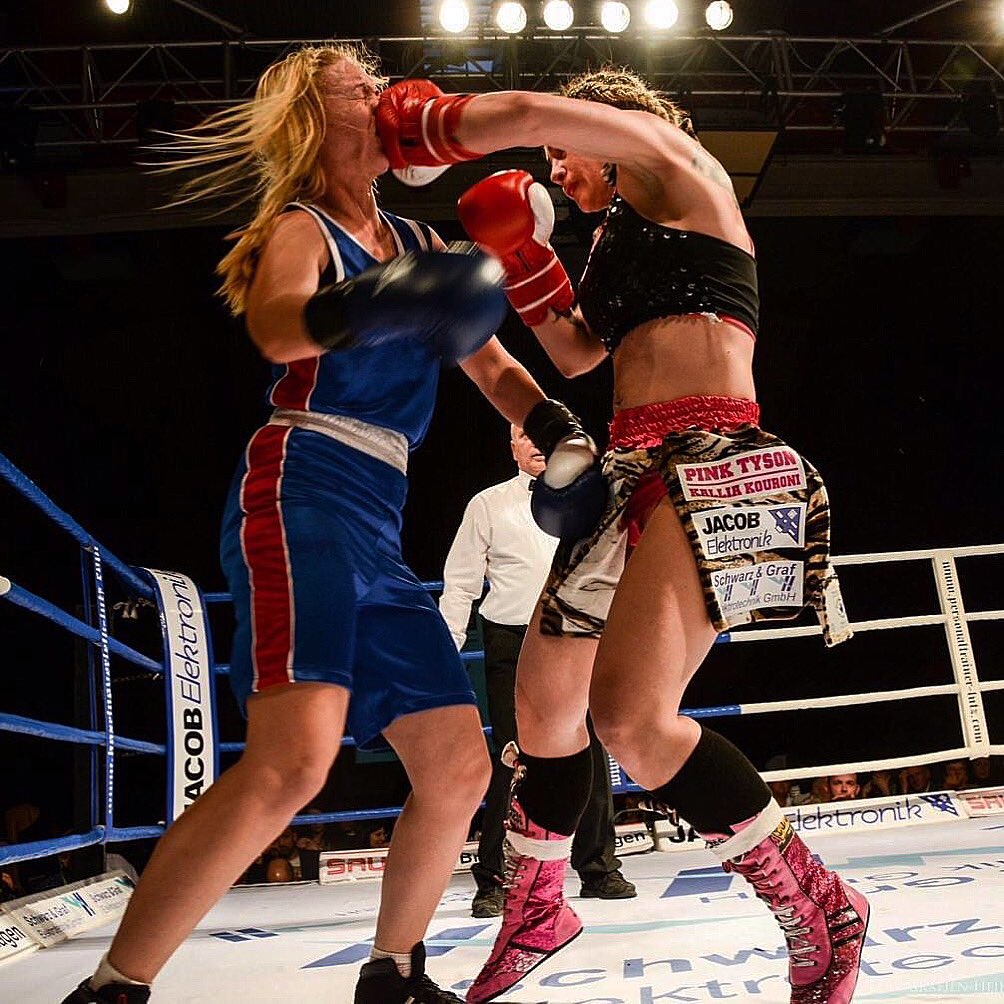 What is one of the key things you've taken from your training there? I can't say one key thing. I've worked with some of the best coaches in many countries with many different styles. I take my special style from my independence. You with see my style has been influenced by many coaches.
What does a typical week of training consist of for you? Eat, sleep, and train 3 times per day. 6 days a week. 1 day to rest and recover. I spar, technical drills. running, strength & conditioning, yoga, and physio therapy. It's very hard training.
How do you balance your work, family, and training? My family lives in Sparta. I live in Las Vegas now. It's hard to balance life as a boxer who is hungry for success. It's a lonely life but I want to make my family proud. Thankfully we have Skype and Whatsapp to see my family and friends.
What advice would you give to someone that is trying to make it in the sport? Go for it. Follow your dreams but don't listen to everything or promises you hear. I've learned this over many years probably more so because I'm a female boxer. It's much easier for males. Be true to yourself and remember boxing is a marathon not a sprint.
Kallia wishes to thank the following:
I want to thank all who have helped me to this day.
I lost my first coach who was my mentor as well, a big shout out goes out to him.
Thanks to all my family, friends, and sponsors past and present.
Nikos Gkampranis that supports me. He helped me and challenged me with my sickness (depression). I came back after many months of nightmare and try to make my dreams come true.
A special thank you to Alessandro Gelke (

[email protected]

) A special thank you to him for bringing me to Las Vegas, recognizing my talent and desire to be the top female boxer. If you want to come on board as a sponsor be sure to contact Mr Gelke for info.
Thanks to all the American people for the kindness they have shown me in this beautiful country. It is truly the land of opportunity.
You can follow Kallia and her progress at:
Facebook: Kallia Kourouni
Twitter: @kkourouni
Instagram: @kallia_kourouni