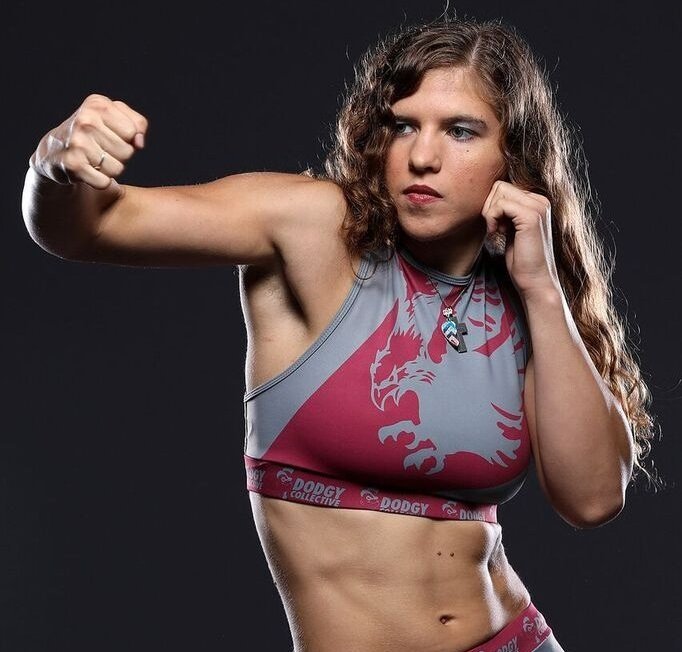 If you were watching UFC 254, you may have noticed a new face making their way into the octagon. However, just because they are new to the UFC does not mean they are new in this sport. Their journey has brought them long and far, and the work to get there is not for the faint of heart. Her name is Miranda Maverick, and for the last 5 years she has worked tirelessly to get to where she is today.
At a young age her dad would roughhouse with her and her siblings. Through the years, this family time evolved into Miranda and her siblings having a solid foundation of self-defense. She decided to check out an actual gym to learn Brazilian Jiu-Jitsu and after a couple of weeks she was hooked. Springfield Fight Club in Springfield, Missouri is where her MMA journey started its course. Today, she is a student at The House of Muay Thai in Norfolk, VA. When I asked her about how her personality fits in with her training environment she said "I like the familial feel of smaller gyms, where I can work well with coaches and get to know them, as well as my training partners, on a more personal level. It makes me more comfortable while training and I feel safer knowing they actually care about me, even it is slightly." A familial feel resonates strongly, for it's something that can truly shape the path a person is meant to be on. "At The House of Muay Thai I've gained a lot of confidence and found my talents as a striker with them, refining my skills daily and making me have a better mindset as a fighter."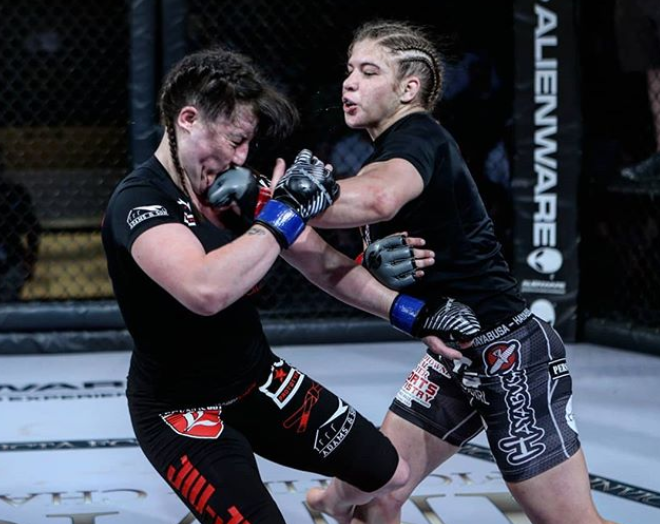 Someone once said "The key to success is to focus on goals, not obstacles." If anyone encompasses that mindset it's Miranda Maverick. When asked what a typical week consist of for her, she responds with "I wake up, do school work or attend meetings for a couple hours to begin my day, go train for 2 hours and come back home." From there, there's no slowing down. "I attend school for four hours, and go right back to training for three to four hours." She teaches an undergraduate class online, so in the evening she comes back home, cleans up and works on homework or grading for that class. This doesn't even include her weekend training. She continues to rise above the challenges in front of her and works hard to surpass them. All of this doesn't come without sacrifice, and she doesn't wish this schedule on anyone. "It's very stressful and negatively affects my relationships with people, as it's hard to fit in a social life." How does she find a balance? "I schedule vehemently and stick to a routine that is most helpful for my goals." School will eventually be done, and she looks forward to that day. Her advice to anyone about to undergo such a challenge is "Keep your eye on the prize and have an end goal that drives you to push through these hard times."
WMMA has been growing exponentially over the past decade, and it continues to make incredible strides. Her advice to women out there that are ready to make their mark in the sport offers an insight on what's required of such a huge undertaking. "This sport is unforgiving and requires an unrelenting spirit. Put in 100% in every day and you will get better, work on all aspects of yourself. This isn't just physical toughness, but also mental, spiritual, and emotional.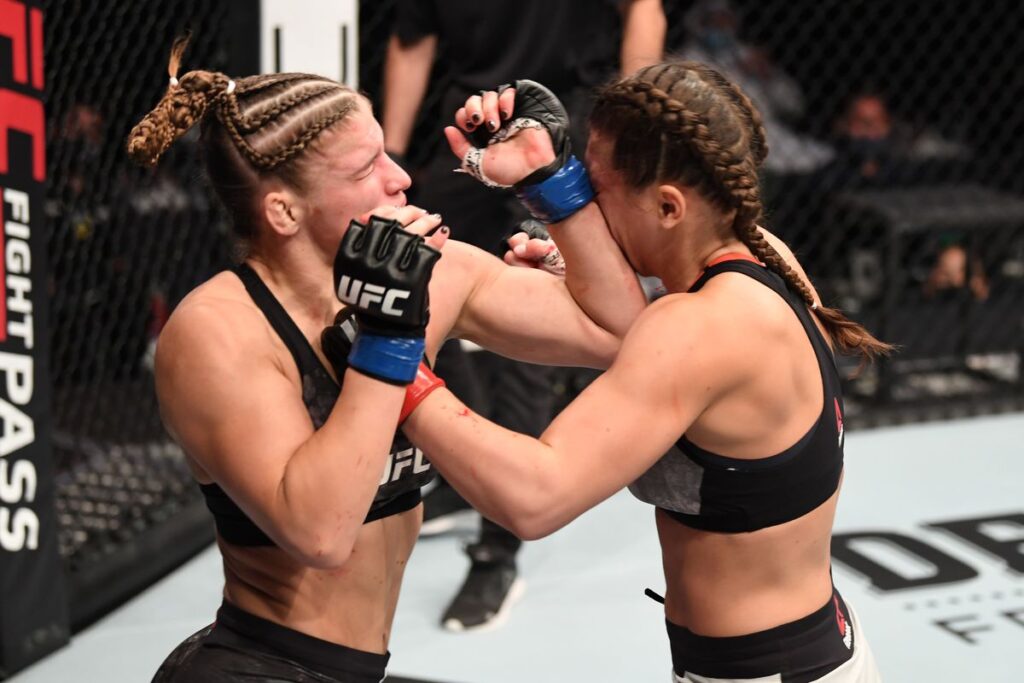 Miranda continues her journey and on October 24th, her skills were displayed in spectacular fashion at UFC 254 in Abu Dhabi. During fight week and all the events leading up to her match, she got to meet a lot of people "Meeting with Dana White, Bruce Buffer, and Jon Anik and speaking with them was awe-inspiring to me. In addition, I met so many legends and inspirations of mine within MMA." She won her fight with a first round tko over her opponent and starting the event off strong.
Does having a PhD in Psychology give her an edge over the person standing in front of her? "I definitely think I have a better Fight IQ than many. I'm able to adapt to change and hardship throughout the round. My knowledge of psychology also helps me stay calm and composed which can mentally defeat opponents." Taunting is a part of combat sports; how does she feel when it's directed at her? "I hope it continues, it gives more hype to the fight which is great for the fans and promotion, also giving me more motivation to release my violent side." She is prepared to get in there again. For now, she focuses on her preparation and lets the matchmakers do their part.
At 23, this is only the beginning for Miranda "fear the" Maverick. She has no intention of slowing down knowing there is hard work ahead. If you'd like to follow her journey, be sure to check her out on Facebook, Instagram, or Twitter. She's thankful for all her fans and sponsors, and wishes to give a special thank you to The House of Muay Thai and her OG team Springfield Fight Club. Her family for their support and teaching her to fight for more than herself. #GlorytoGod