On November 11, 2020 Carson Hardman will step into cage at XFC 43. He brings with him an 8-2 record and looking to improve upon his previous fight win. He is working diligently as the final moments of fight week come to an end. The road that brought him here is filled with challenges, with that he has stepped up and met them head on each time. Where did his journey begin for him?
At 25 years of age, he has been practicing MMA since the age of 14, taking a two-year break to serve on a mission for the Church of Jesus Christ of Latter-day Saints. When he was younger skateboarding was one of his first interests. A hobby that unexpectedly led him to this sport. "I got into MMA because I was too fat for skateboarding, continually broke my skateboards within two or three weeks of each other." Working as a farm hand initially didn't meet his financial needs and with that, he turned his eyes on to MMA.
He is currently training at Xcite MMA in Lehi, Utah. In a gym, lessons are learned, ideas exchanged, and bonds are forged through training. It's a place where people can find out who you are, and how you fit into a team. When asked about his place at Xcite MMA he responds "I think I fit in just fine. People know who I am and know what I'm about and they respect that. I appreciate that respect. Soccer great "Success is no accident, it is hard work, perseverance, learning, studying, sacrifice and most of all, love of what you are doing." The word perseverance stands out and it's one of the principals instilled in him through his training at Xcite MMA. "No matter if it's in a fight or in life if things come your way that you weren't expecting, you have to learn to push through it and find a way to get through it." His training takes up 6 days of the week, two-a-day workouts for five days and a double session on the sixth day. The training, the lifestyle, the sport has all become a part of him. "It's just who I am and I love the fact that I can be me. I love that when I'm in the ring I can be me 100%"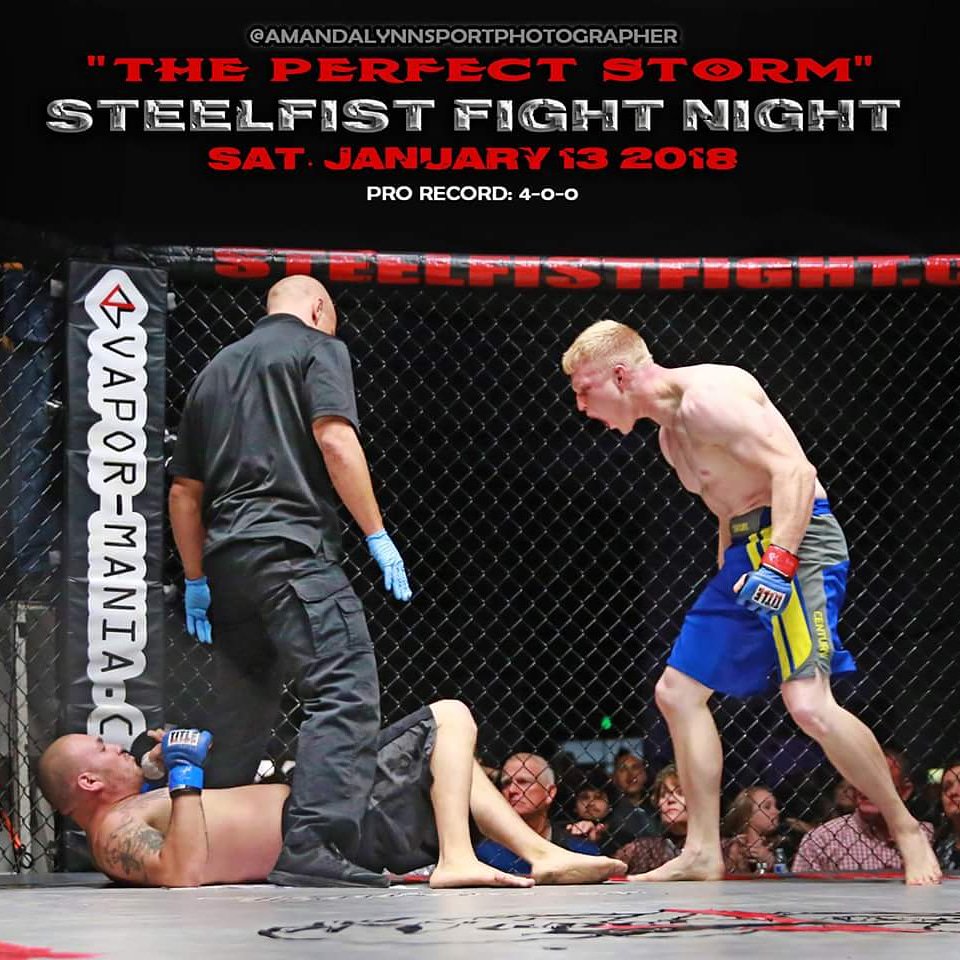 In order to win a fight, one person has to make the best decisions strategically and tactically. This is one of the things that separates Carson from the rest. Fight IQ as it has come to be known is an integral part of the game. "I'd say the biggest thing that separates me from other in my division is simply Fight IQ. You have to be tough, and most fighters are. However, not a lot are smart. If you want to go to the big shows you have to be smart. This is one of the aspects of the fight game that he will bring with him when he enters the ring.
For anyone trying to make their way in this sport Carson breaks down his ideas on what it takes. "Take it seriously" he says. Even if it's only an amateur fight, you're going out there locked in a cage, in front of people." He jokes and says "Going against you, is an opponent who has been trained to literally kill you, and the only thing that stops them from killing you is the ref." He concludes by saying "If you're getting into MMA just for fun, you don't plan on competing in any way, just enjoy the journey."
The stage is set and he has prepared for his upcoming challenge. The road that has led him here is filled with the many people that have been with him on this journey. When the bell rings he will not be alone in his corner. The training he has received and the support from his loved ones goes with him. The following are the people Carson would like to thank and acknowledge as he prepares to enter that cage.
Carson would like to give a shout out to his Head Coach Mark Balcer. "He's been a father figure since day one. He has taught me so many things and has been a stable rock in my life that has kept me on a good path."
His Wife: "She has made many sacrifices for me to get to this point."

Operation Underground Railroad: "They are a non-profit company that stops human trafficking. Human trafficking is a problem, especially in America. I'd like to raise a voice of awareness by inviting anyone who is willing to fight against human trafficking to go to Operation Underground Railroad's website and become a member. It only takes about 10 minutes of your time"
Be sure to follow Carson on Twitter: @xcitewarrior to follow his journey in MMA.
Scroll Up