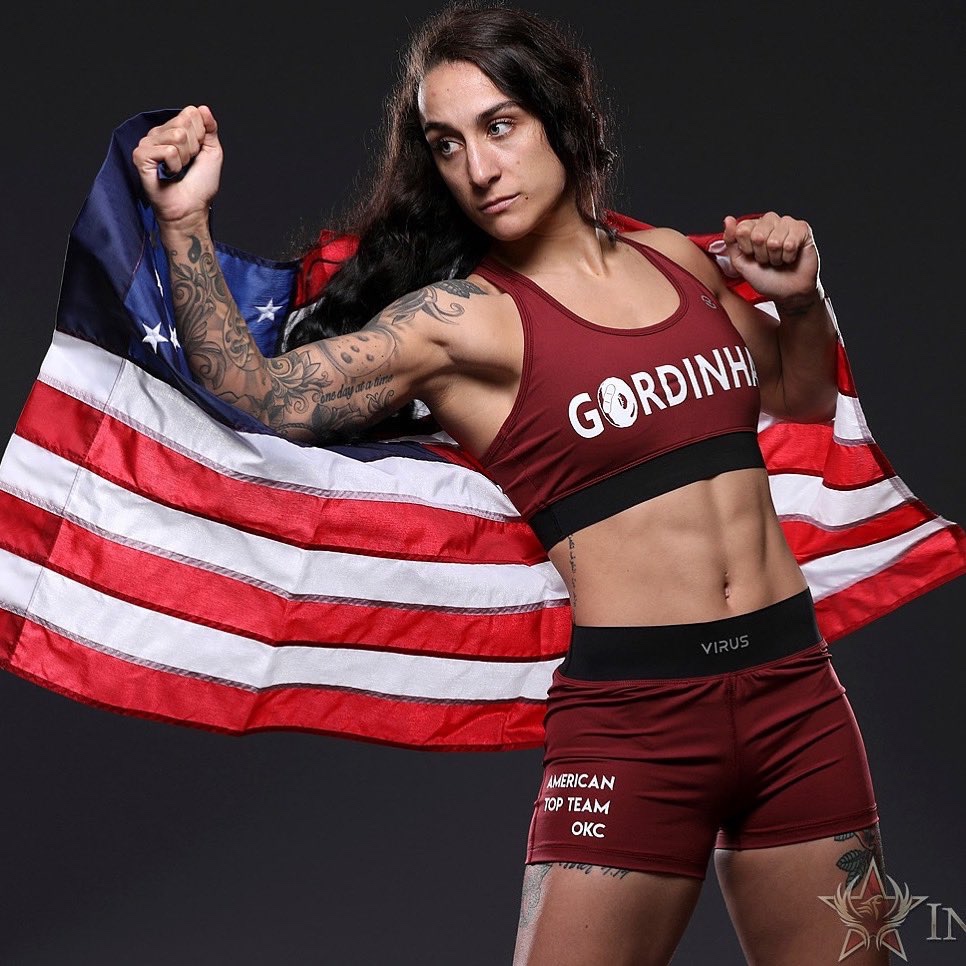 As a kid​​, Emily Ducote watched UFC fights with her grandparents. It was them who convinced Emily's parents to let her start training Tae Kwon Do. Inspiration comes from many places and Emily grew into the fighter she is now from her grandparents. High school and college were places where her wrestling took the spotlight. It wasn't until college that she transitioned into MMA. In 2015 she turned pro, and since then has worked hard to grow in the sport.

Emily Ducote trains at American Top Team in OKC. "The gym is my home! The people there are family to me." The gym is a huge part of how a fighter grows and it really helps being part of an organization. ATT: a name synonymous with excellence. It's a place to sharpen skills and work on your craft. "I am constantly learning new things at the gym, trying to continually evolve as a fighter and person."

Emily trains hard, day in and day out. She stays focused on the task at hand and each day brings a new challenge. "I usually train in the morning and at night. My training is a combination of striking, wrestling, and BJJ. When I am in camp, my schedule changes a little, I'll try and plan some training trips but usually I'm training in OKC." Having a balance is important in the life of a fighter. She finds ways to bring that balance to her everyday life. "My training and personal life are pretty connected. I'm very passionate about MMA so everything I do has some type of connection to it. I enjoy the lifestyle and really couldn't imagine myself doing anything else!"

In November of 2020, she was scheduled to fight on the Invicta stage. At the last minute her fight was pulled from the event. What kind of toll does that take on someone after all the prep involved in training? "I spent so many months preparing. It was very devastating mentally and physically to have it cancelled after I weighed in." A fight cancellation has not slowed her down. She continues to train and work hard for the next opportunity. "I don't have a new date yet, I'm hoping to hear from Invicta about that soon. My goals for 2021 are to win the Invicta FC Strawweight Belt and to make my way to the UFC."

If you follow her on Instagram or Twitter during her training, you'll notice some friends showing support. Her pit bulls are a big part of her life. "I love pitties! They are definitely my favorite breed" Pit bulls have a bad reputation, but a fear of the unknown can be tied to that. "I really believe that they are misunderstood. People fear them without knowing why. There are so many myths about pitties that are just not true." Her pitties are there with her during her training and home life, and it's easy to see what a loving breed they truly are.

The life of a fighter is not easy. It takes a special kind of person to do this, day in and day out. What advice does she have for someone trying to follow in those footsteps? "My advice is to find a good coach and team. Find someone that has your best interest at hear, not just a big gym"

The goal stays the same for Emily Ducote. The hard work and dedication she puts in to realize those goals can't be denied. 2021 is just starting and she is preparing to make big moves in the sport. If you want to follow her progress in the sport, you can follow her on Instagram and Twitter.
For more interviews: