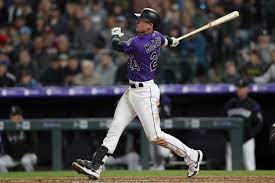 Pardon the puns but it seems that the Rockies have entered into last place in the entire league. The season may be young, and all may not be lost. What positives can you take having a 6-12 record thus far? Well, let's start with that only entails 11% of the season. The road is a tough one for sure. Three years ago they were in the NLWC and Won against the Cubs. Since then though, they have had two losing seasons which included a shortened Covid season. Let's break down a few of the things that can get them back on track and out of the cellar.
As we all know, Coors field is known as a hitter's park. The high altitude does help the ball carry a little easier. It's no surprise that the league leader in HR (Ronald Acuna) has 7 as I am writing this and Ryan McMahon the second basemen for the Rockies has 6. It's a start right? Major differences in the two is that Acuna is batting .419 to McMahon's .275. Can McMahon help jumpstart this part of the offense?
John Gray leads the defense in pitching. He is currently 2-1 and is ranked at 24 in ERA with 2.42. Throughout his career he has averaged 4.52 and though his team is currently in last place he is doing his part to keep them in games. Of course these seem like a very simplistic way of looking at Wins and Losses however, they can be the stepping stones out of last place. Sometimes, teams will hit skids that amount to losing seasons. Can the Rockies shake off two of them and get back to who they were in 2018? We can look ahead and see how they look at the All Star break for a better gauge.