By: Jarett Rice
It may not be necessary to mention, but this is by far the most difficult draft to predict in the 3 or so years I have made these. Even the number 1 pick isn't deadset, which while it makes it difficult, it also makes it way more fun in general. I am going to mention, that I will not be doing trades in this for sanity reasons. Without further ado, here goes my best guess of the 2022 NFL Draft.
Jacksonville Jaguars- Aidan Hutchinson, EDGE, Michigan
While there are rumors of it either being Hutchinson or Walker, I personally believe the pick is Hutchinson. I like Walker in a versatility standpoint, but Hutchinson is for sure the safer pick here. While I don't believe he is the best number one prospect we have ever had, I do think he is still by far the best prospect in this draft. Jacksonville as a whole need a lot of help, but they spent big on the offense in free agency, so defense has to be the way to go. Hutchinson has the upside to be the focal point of this defense as they hopefully get out this rebuild before too long.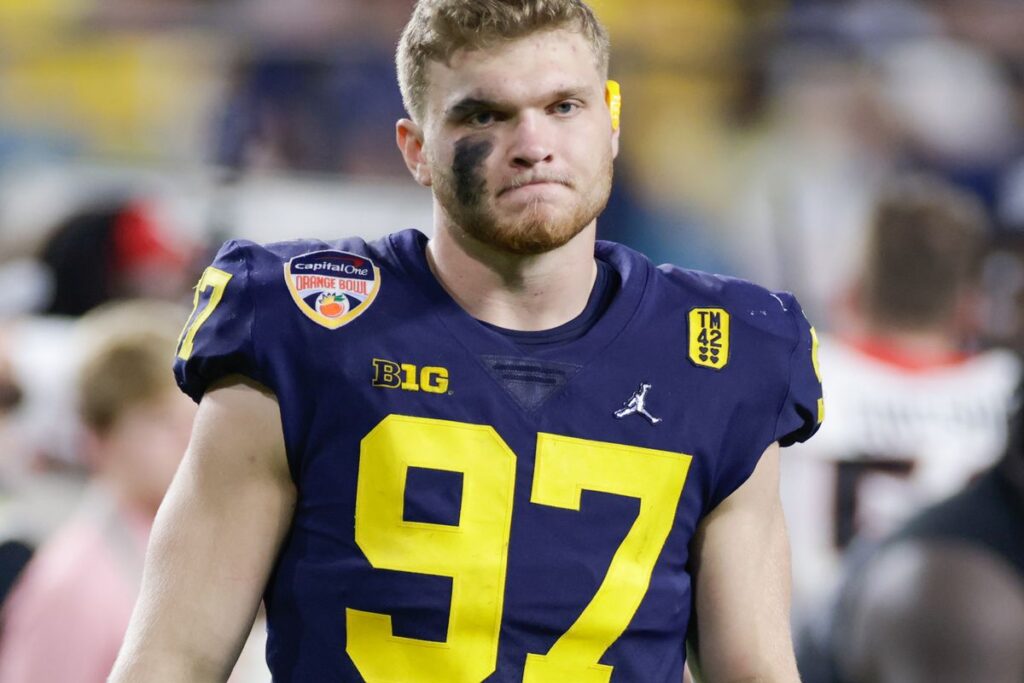 2. Detroit Lions- Trayvon Walker, DL, Georgia
I Really like this pick, which sucks given it is a division rival of mine. I think the Lions are creating a tough, physical, and hard working team under new coach Dan Campbell. I really like this fit, I feel like Walker could bring a different level to this defense.  I know QB is an option here, but this QB class just isn't it, in my opinion. The only one I could see being franchise at this point in time, is Malik Willis, and I like him in Detroit, but I think its smarter to wait till you get a for sure QB option like next draft or so when a few great options should be there.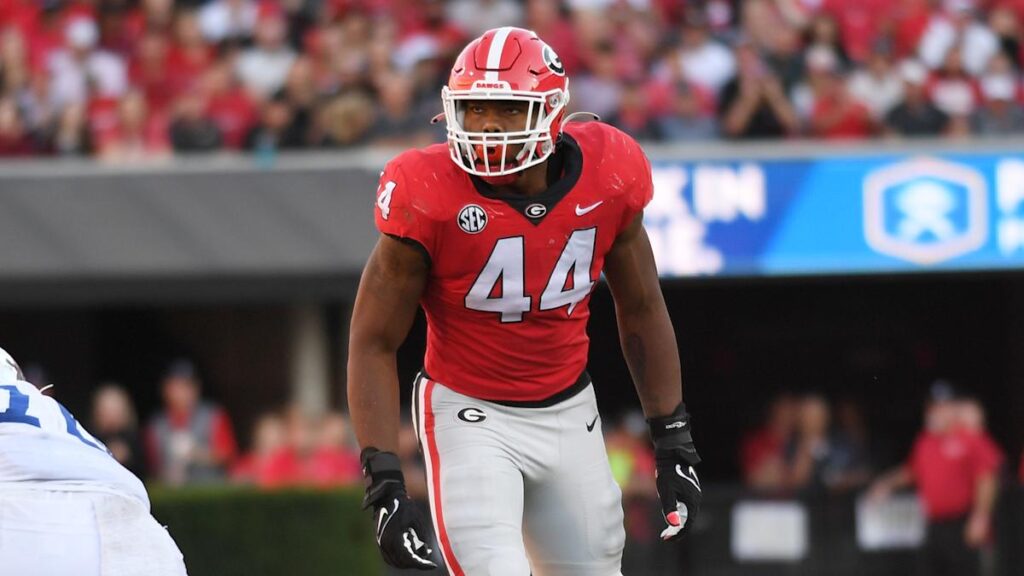 3. Houston Texans- Sauce Gardner, CB, Cincinnati
As a Bears fan, I know Lovie Smith, and he loves defense. With that being said why not go with the best CB in the draft. A true lock down corner, and will be a center point in this defense for a very long time. I could see them getting a weapon for franchise QB Davis Mills, but I feel like this is the more likely option given the team state. They kept Brandin Cooks around for a reason, this draft is deep enough at WR that they can get a great weapon later, while fixing a glaring hole now.
4. New York Jets- Ickey Ekwonu, OL, N.C. State
Finally one of these great offensive lineman come off the board. I have heard around the rumor mill that they love him here, which makes sense. I have made it very clear I am not a big Zach Wilson fan yet, but if they are sure, protect him with more weapons and a better O-Line. I know they spent an early pick at LT with Becton a few years back. But they need to keep improving for the sake of their young QB.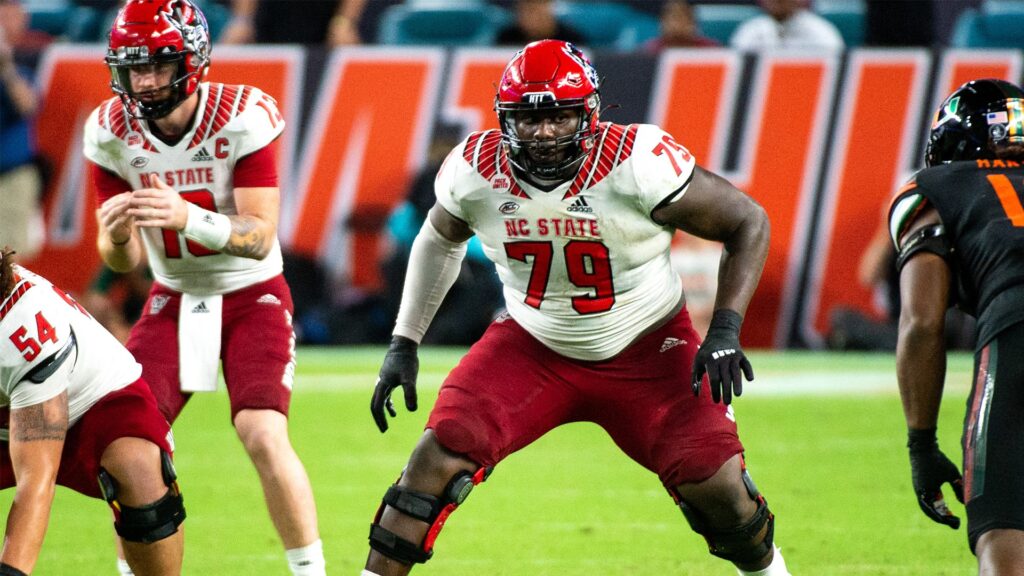 5. New York Giants- Evan Neal, OL, Alabama
Back to back New York teams picking, back to back O-Lineman picked. I think it's a toss up which of the two lineman are the best in the class, but I personally like Ekwonu a little more, hence why I put him first. But Neal is no slacker in his own right. I Think the Giants are another team with a huge question mark at QB, but if they think he is the answer, protect him. They have spent so much money getting him weapons, but they need to focus on getting him protection now.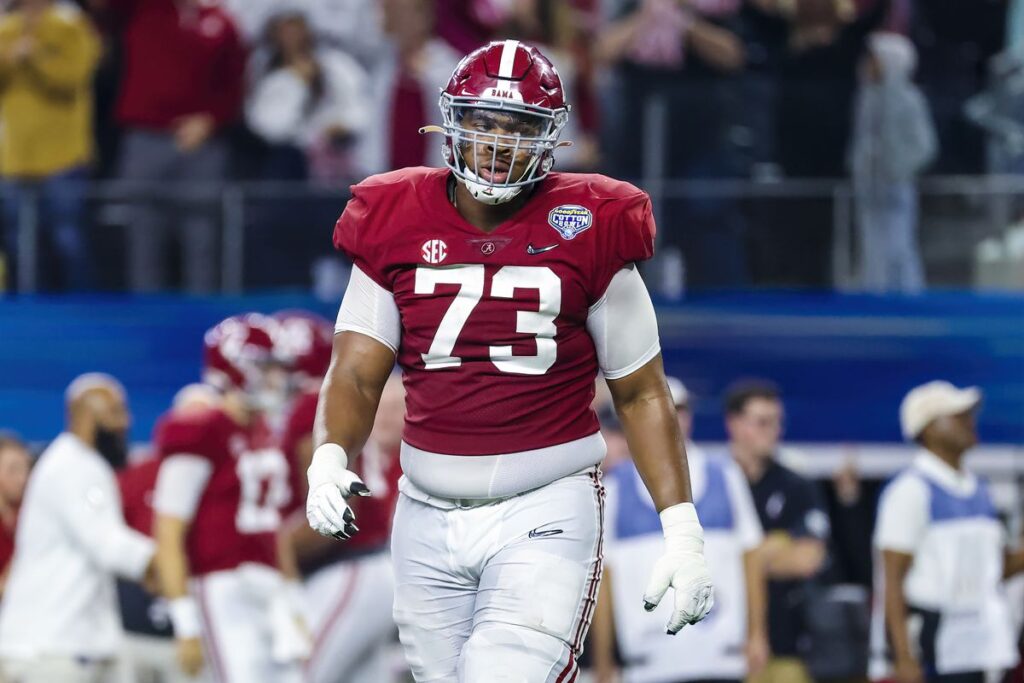 6. Carolina Panthers- Charles Cross, OL, Mississippi State
And here is the run on O-Lineman in the beginning of the draft as Cross makes it three in a row. This is probably a pick I would look to trade down if I was doing trades. They need to go offense and there are a lot of great defensive players on the board right now, but without trades they make a move for someone to protect their Franchise QB, whoever that ends up being.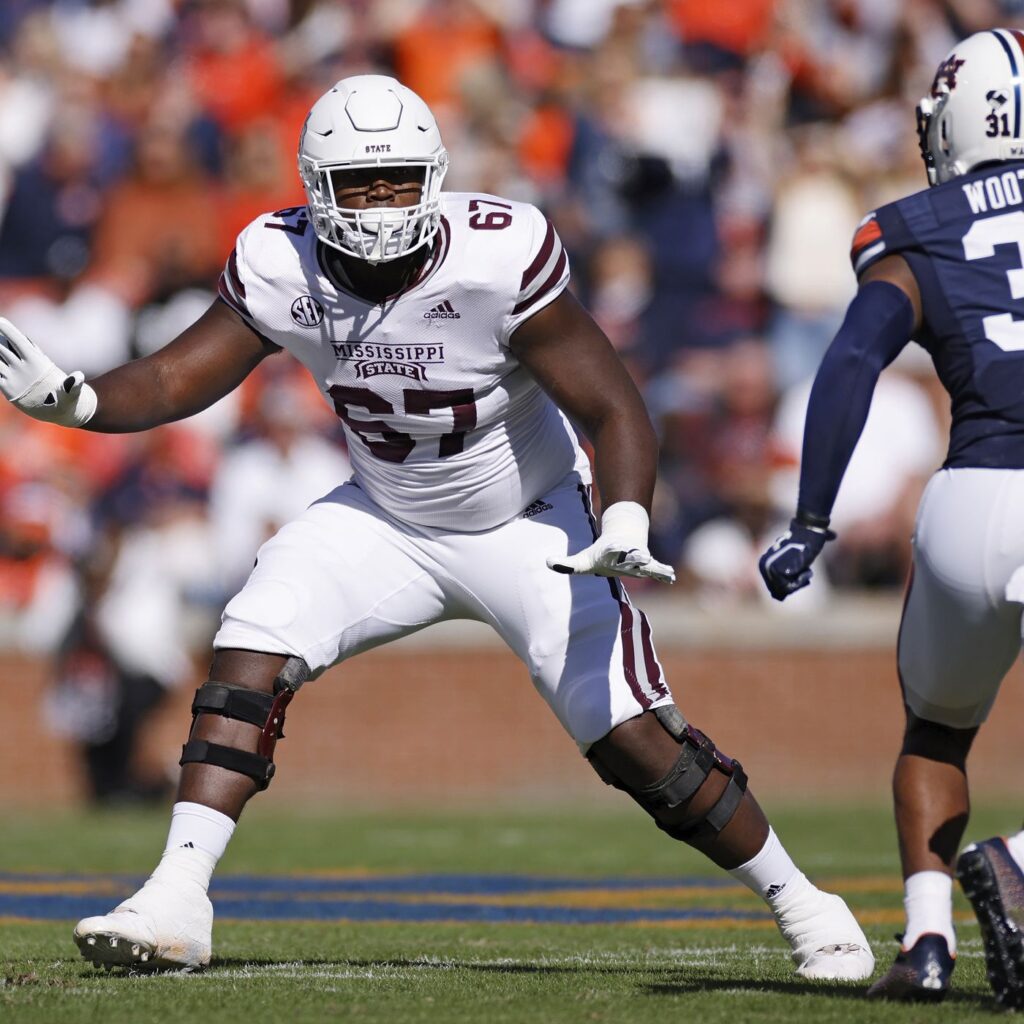 7. New York Giants (From Chicago)- Kayvon Thibodeaux, EDGE, Oregon
The Giants got their QB protector at 5, and now they get their QB hunter at 7. Thibodeaux has weirdly fallen down draft board after being the projected number 1 pick not long ago. I am not so sure why. The dude is a stud off the edge, and will be a great pass rusher eventually. I think the Giants roster is a complete mess right now, but these two picks will help the rebuild. The trenches are the most important thing in football in my opinion, and a pass rusher and O-lineman are ideal here for building a team.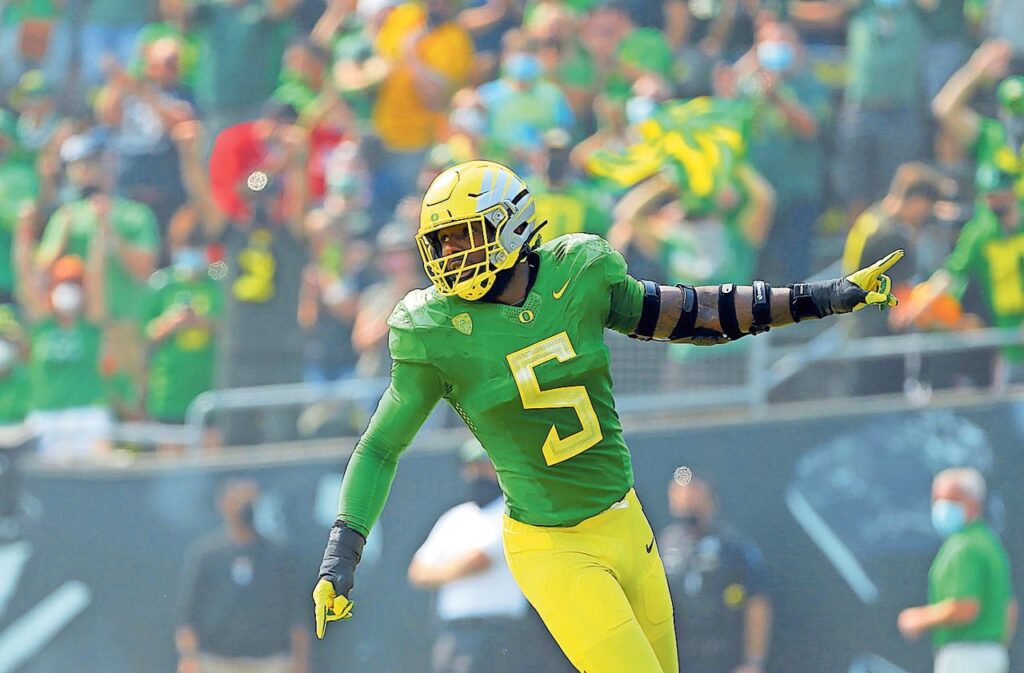 8. Atlanta Falcons- Malik Willis, QB, Liberty
I can't picture a team going into the season with their only solution to the QB position being Marcus Mariota. I don't know where the Mariota band wagon of him being a QB who just never got a chance came from, but I don't think he is a franchise QB. But even if he is, get a QB who has the most potential in this class. I do think he is the one who is most likely to be great. And the Falcons need a face of the franchise after Matt Ryan left.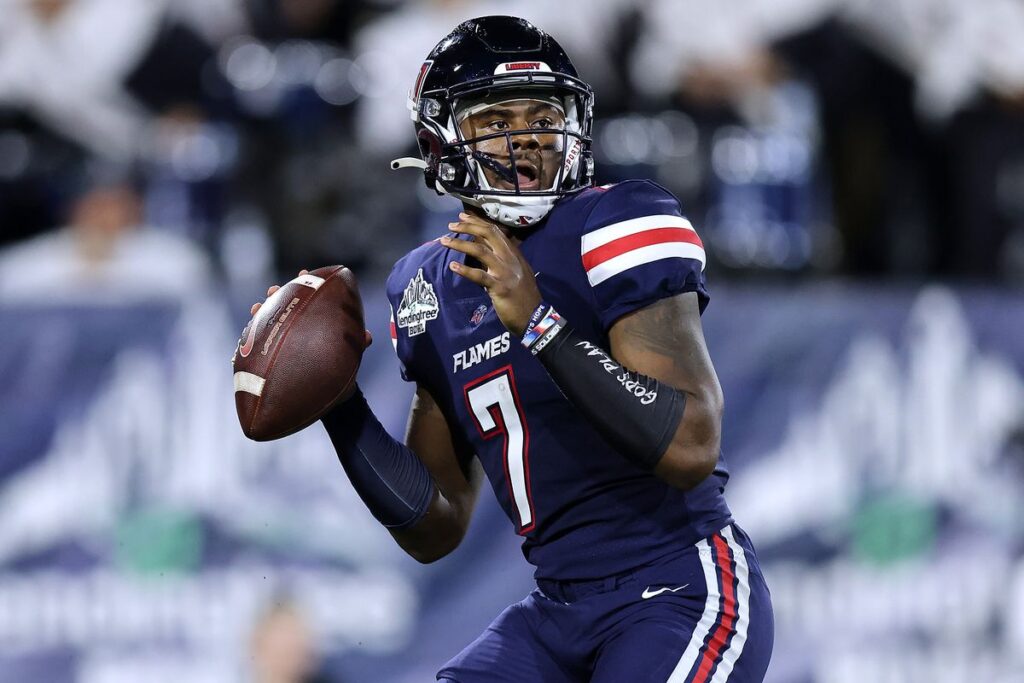 9. Seattle Seahawks (From Broncos)- Derek Stingley Jr., CB, LSU
The Seahawks try and recreate the legion of boom type of success with this pick. Stingley is also probably the best prospect on the board at this point to which helps. Stingley is a great prospect who I feel gets overlooked being in the same class as Gardner. Stingley also has lockdown corner potential.  If there was a top O-Lineman left I could see them going there. But with them and Willis being gone at this point, I see them going with Stingley.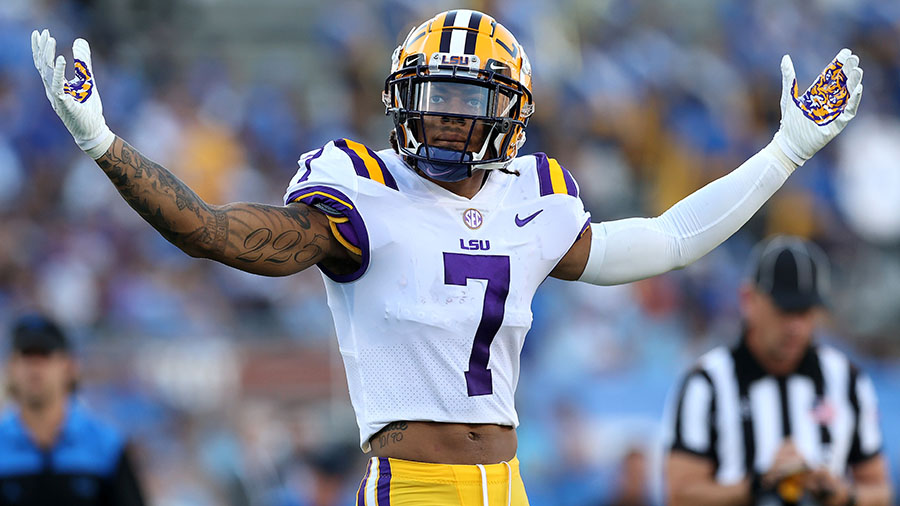 10. New York Jets (From Seahawks)- Jermaine Johnson II, EDGE, Florida State
Around the rumor mill the Jets prefer Johnson over Thibodeaux, so if the draft falls this way they are ecstatic. Johnson is a great edge rusher, I just am not as high on him as most media people, and supposedly teams are. I do think they need a pass rusher, so this fills a need. They copy the other New York team and go OL then Edge rusher with their two round one picks.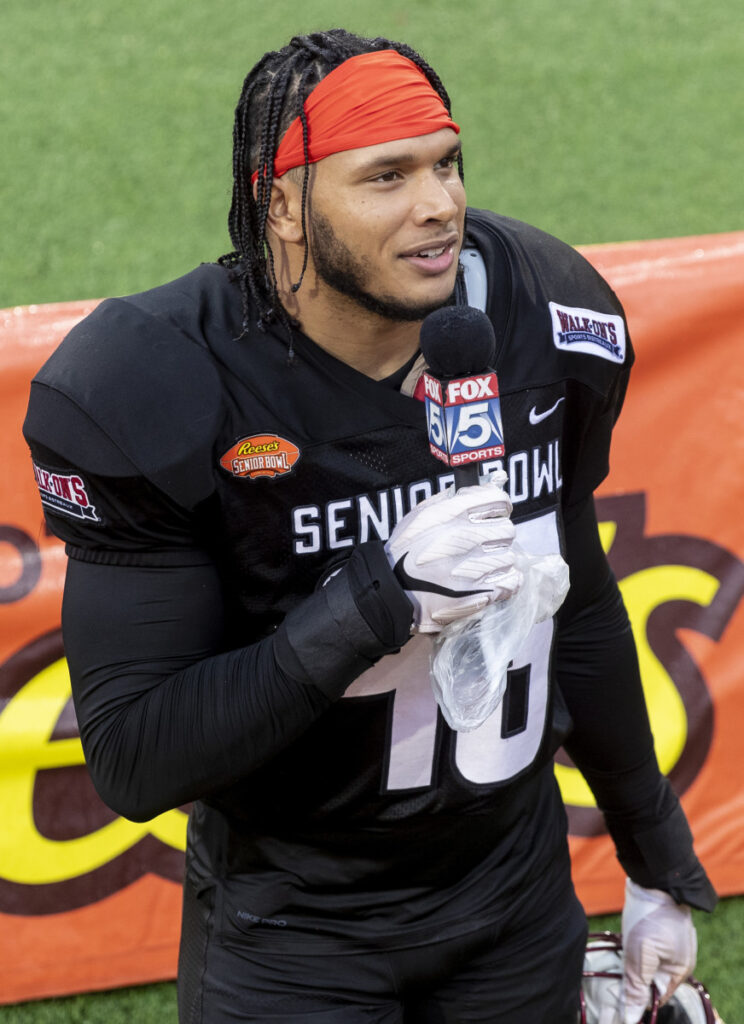 11. Washington Commanders- Kyle Hamilton, S, Notre Dame
I don't know how a player with this talent and potential possibly falls this far. I love Hamilton as a player. I think he honestly is an all-pro sooner rather than later. Defense isn't the biggest need for this team, but if a player this good falls in your lap, there is zero chance you pass that up. He is the best safety prospect since Jamal Adams in my honest opinion.
12. Minnesota Vikings- Trent McDuffie, CB, Washington
Again, I hate this as a Bears fan, but McDuffie is going to be a good player in this league. Minnesota honestly doesn't have as many holes as you would think. I think injuries and coaching are big problem with them as of late. But the defense isn't perfect so why not get a great defensive player still on the board. Not to mention drafting a young CB with a legend like Patrick Peterson still on the roster is a great mentor for him.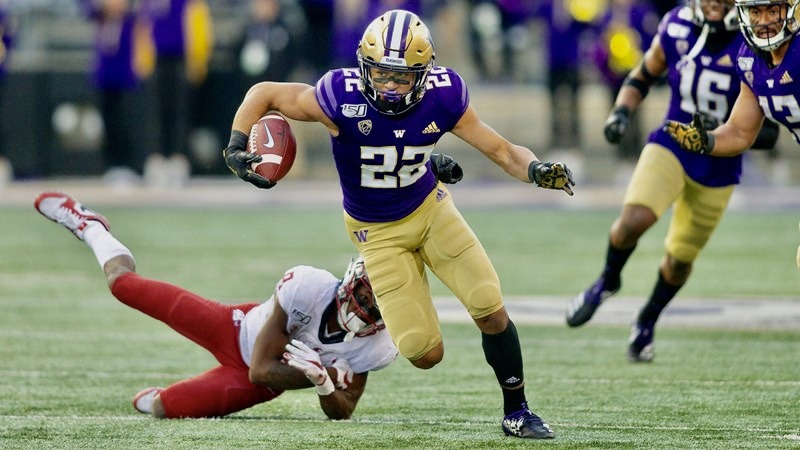 13. Houston Texans (From Browns)- Garrett Wilson, WR, Ohio State
I know I mentioned they could get a WR later, but you get to your second first round pick, and the best WR in the class is available, you take him. Mills can be successful if given weapons, and Wilson will help tremendously with that.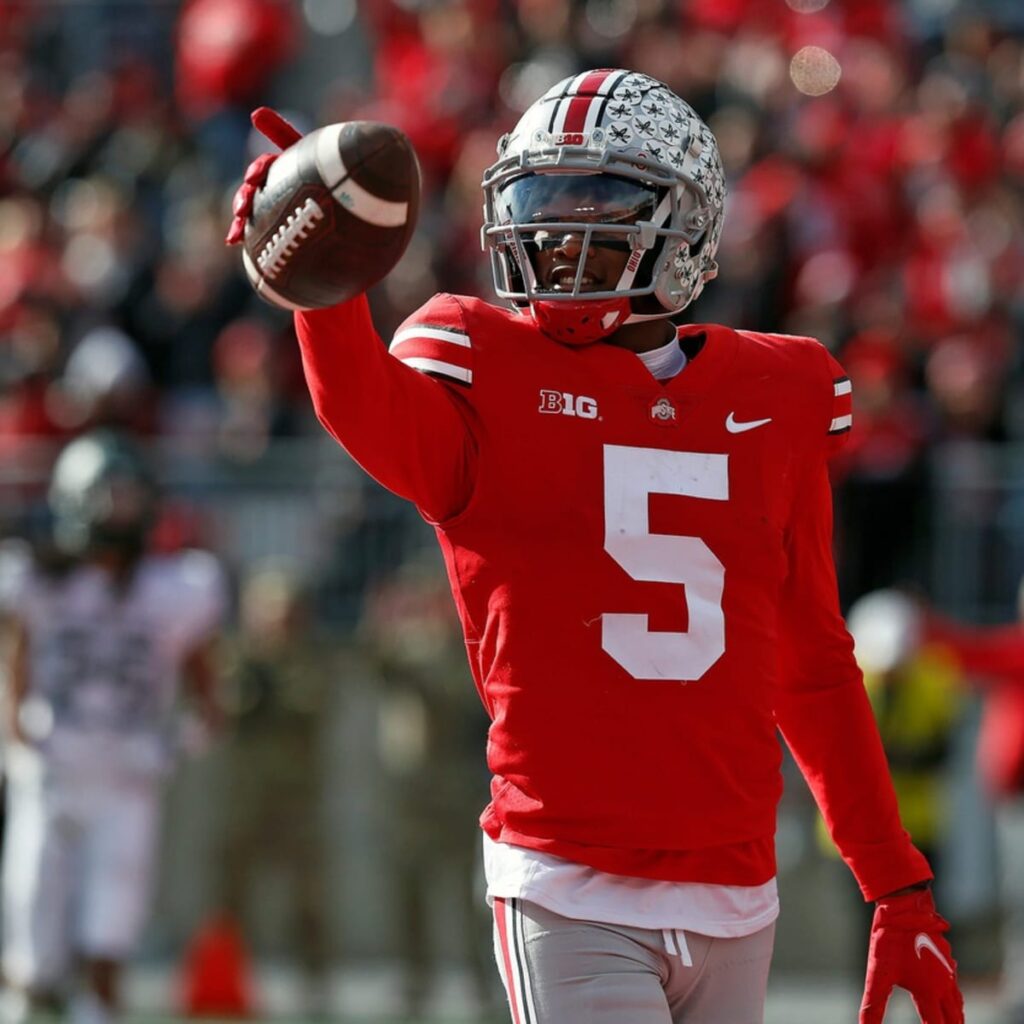 14. Baltimore Ravens- Drake London, WR, USC
Lamar Jackson is a good QB, but he honestly doesn't have many great weapons. I don't think he is the type of QB that just makes his weapons better like an Aaron Rodgers or Tom Brady, so Baltimore has to help him out here and get him a big body on the outside. London is viewed as the best WR in the class by some and this is the perfect pick by Baltimore here.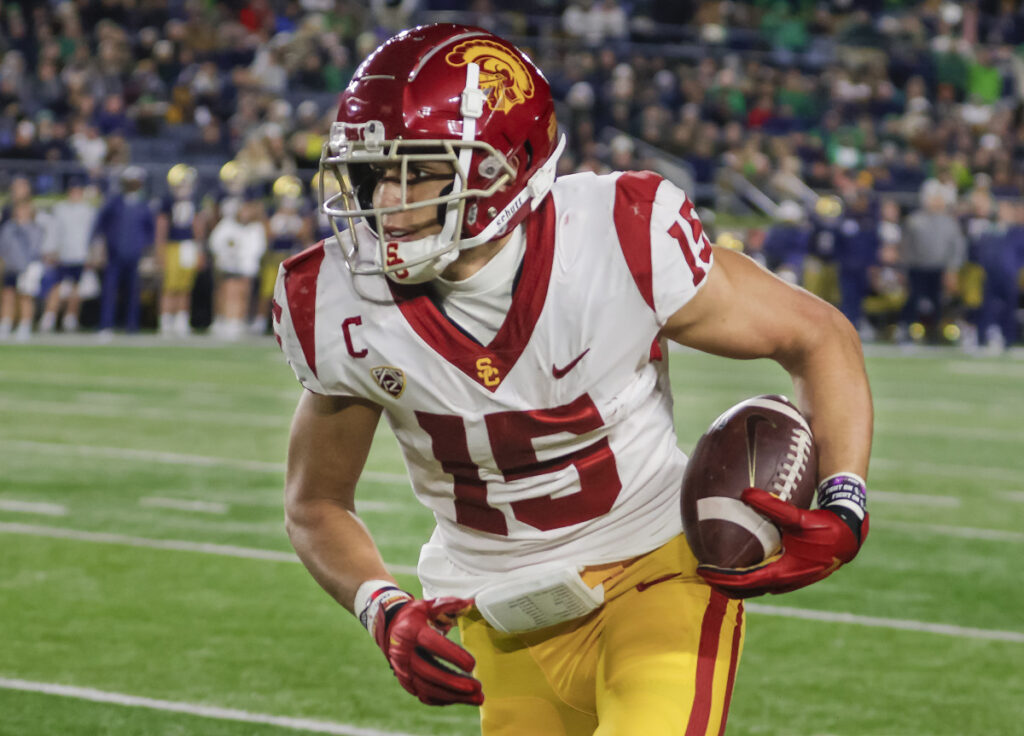 15. Philadelphia Eagles (From Dolphins)- Devin Lloyd, LB, Utah
The Eagles are a team hard to protect as they could go so many different directions. But I think a great leader, and great LB is a great fit for them. I think adding someone like Lloyd could help that defense that I feel cost them some games last year.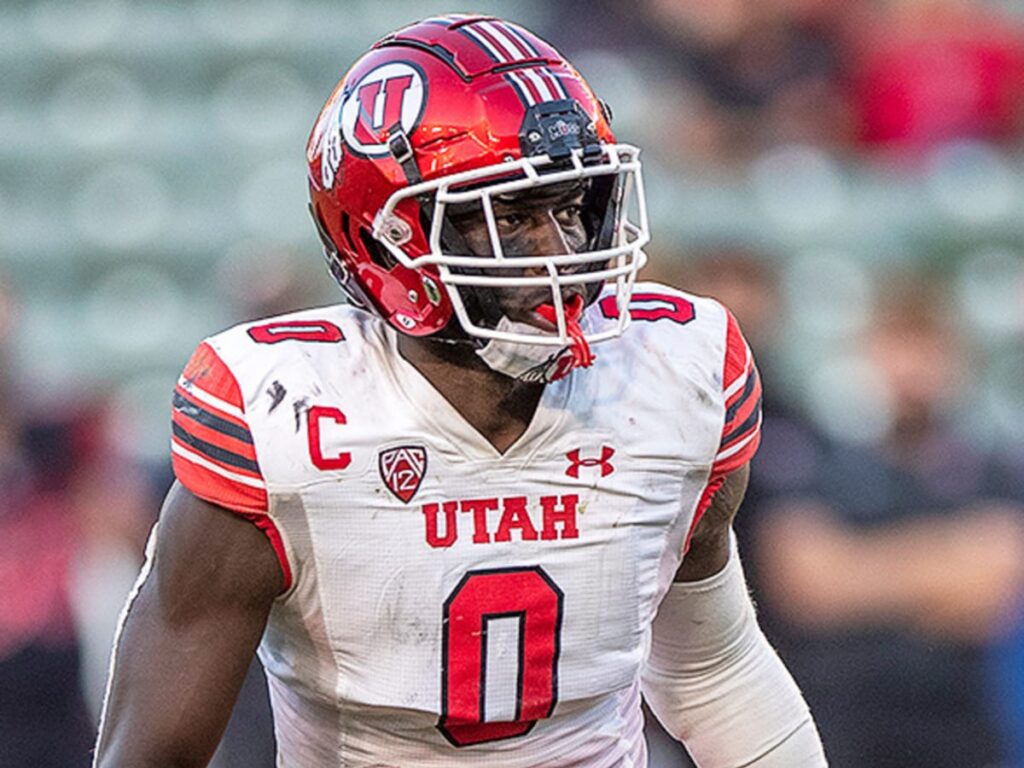 16. New Orleans Saints (From Colts via Eagles)- Kenny Pickett, QB, Pitt
I know this may be a head scratcher, but I don't know if I fully trust Winston as a long term answer at QB. Pickett has big boom or bust potential. I think now that the Sean Payton era is over in the big easy, Dennis Allen may want his own guy, and Pickett could be exactly that. I know there is the debate that they still are contenders, but I don't see it, and I think that finding the future is a bigger need.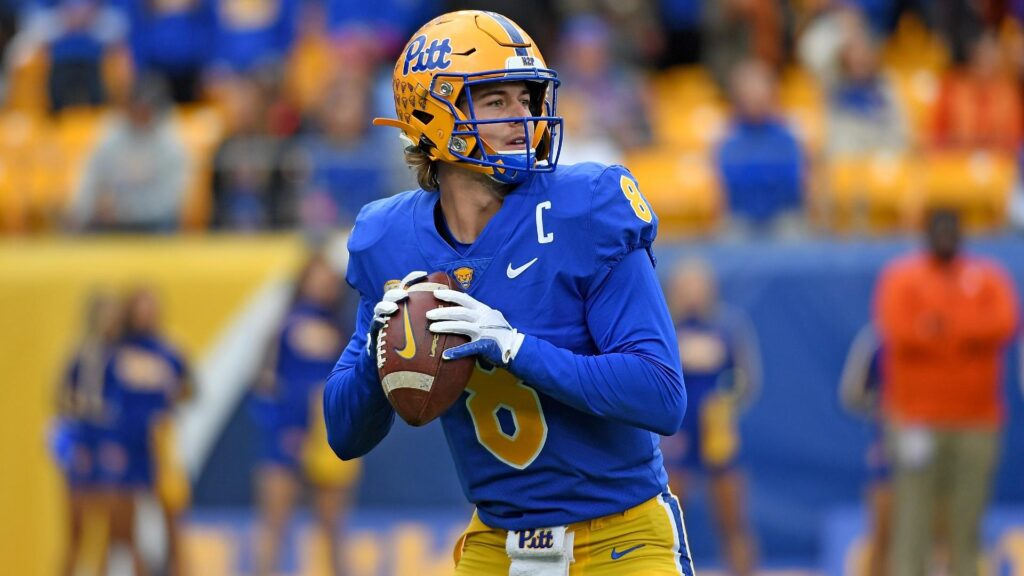 17. Los Angeles Chargers- Jordan Davis, DL, Georgia
I feel like Davis is much better than he has gotten credit for as of late. The big concern is he isn't a 3-down player. But I think with his athleticism he sneakily has, he very much could be. He is a mauler in the middle, pair that with Bosa and Mack on the edges, JC Jackson and Derwin James in the secondary, and Herbert and that offense? That is a recipe for maybe the best team in the league.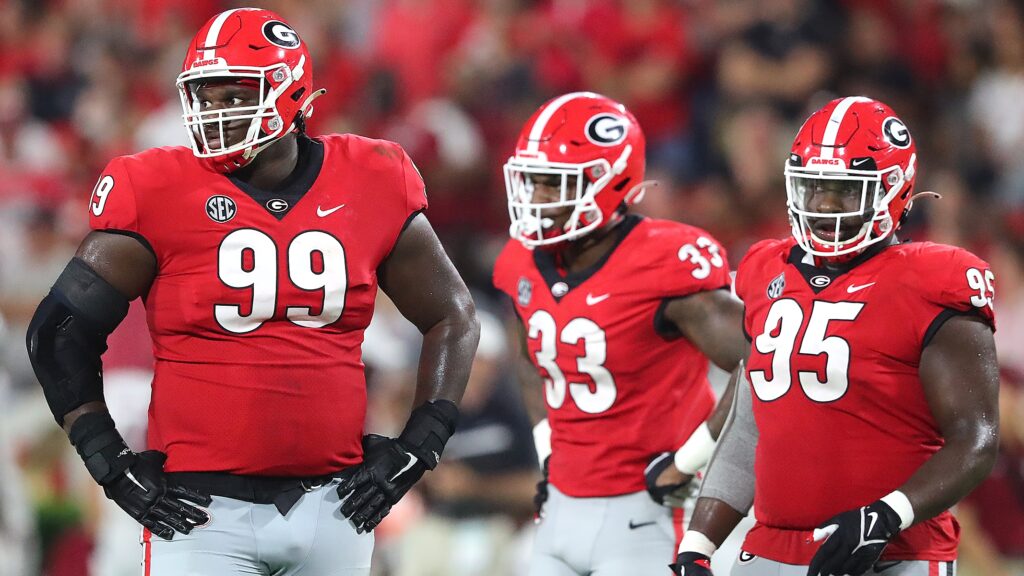 18. Philadelphia Eagles (From Saints)- Chris Olave, WR, Ohio State
Here goes the second of the pair of receivers from Ohio State, and a great weapon to pair opposite of Smith in Philly. The Eagles don't have a great track record of picking WR in round 1, but they have a chance to fix that back to back years. Olave is probably my favorite option at WR in the whole draft and I like this pick especially this late.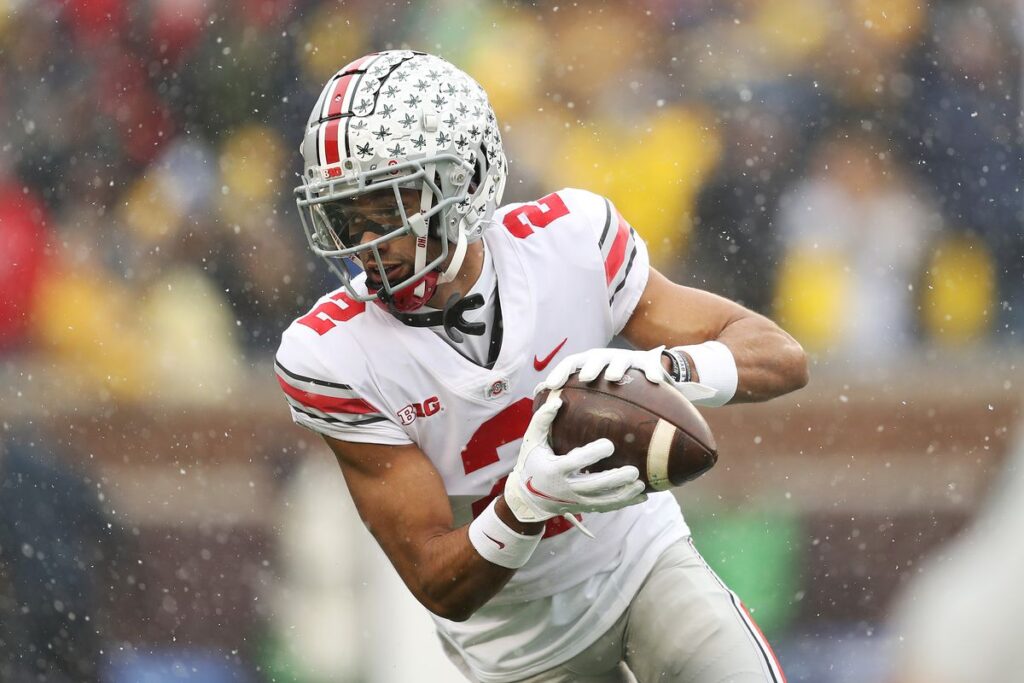 19. New Orleans Saints (From Eagles)- Devonte Wyatt, DL, Georgia
I love basically any prospect from that insane Georgia defense. It was the best in the nation for a reason. I feel like the first pick was very much a "for the future" kind of pick, while this one is more so a pro ready prospect that will help right away. So maybe Saints fans will like me a little bit more after this pick.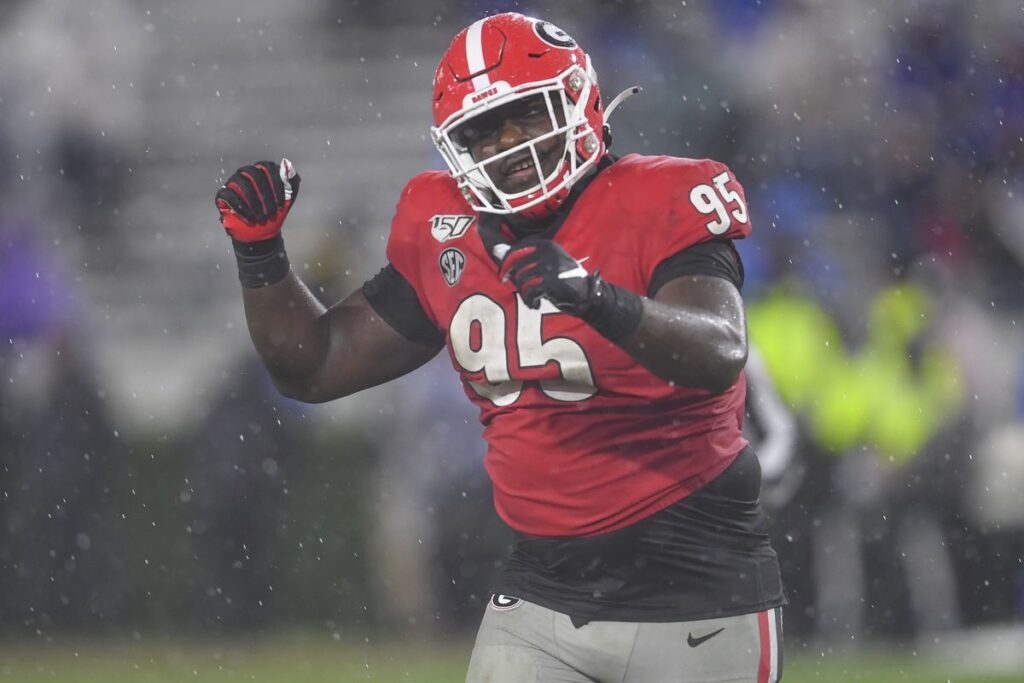 20. Pittsburgh Steelers- Jameson Williams, WR, Alabama
Probably the number 1 receiver off the board prior to the injury, this would be a great steal for the Steelers if he comes back as great as talked about. I really like Williams, and that speed will be a great deep weapon for Mitch Trubisky.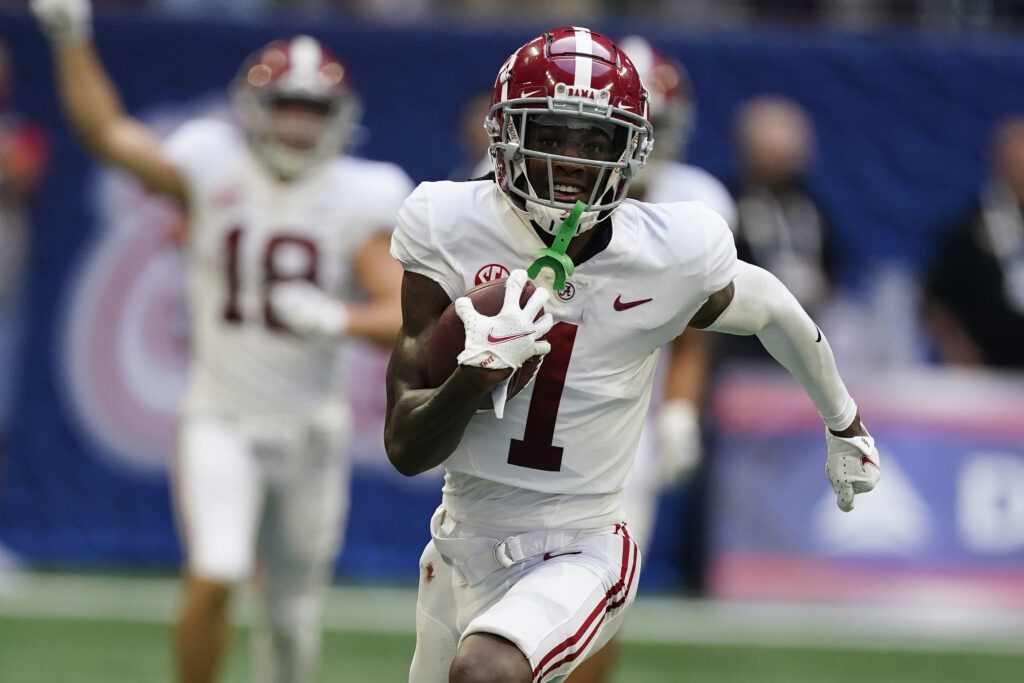 21. New England Patriots- Jahan Dotson, WR, Penn State
The Patriots need to add WR for Mac Jones to succeed. I like Jones but I also feel he can only be as good as the weapons around him. Getting him a receiver like Dotson does just that. I was tempted to go Burks but I feel they will be more hesitant to go for a big body receiver after the whole N'Keal Harry thing.
22. Green Bay Packers (From Raiders)- Treylon Burks, WR, Arkansas
If the Packers don't go WR with their first pick here, I will die laughing. As a Packers hater I hope they don't, but they just lost the best receiver in football. And Aaron Rodgers won't play forever, they need to get him weapons to succeed, you can't go into a season with Allen Lazard and Randall Cobb as your top weapons.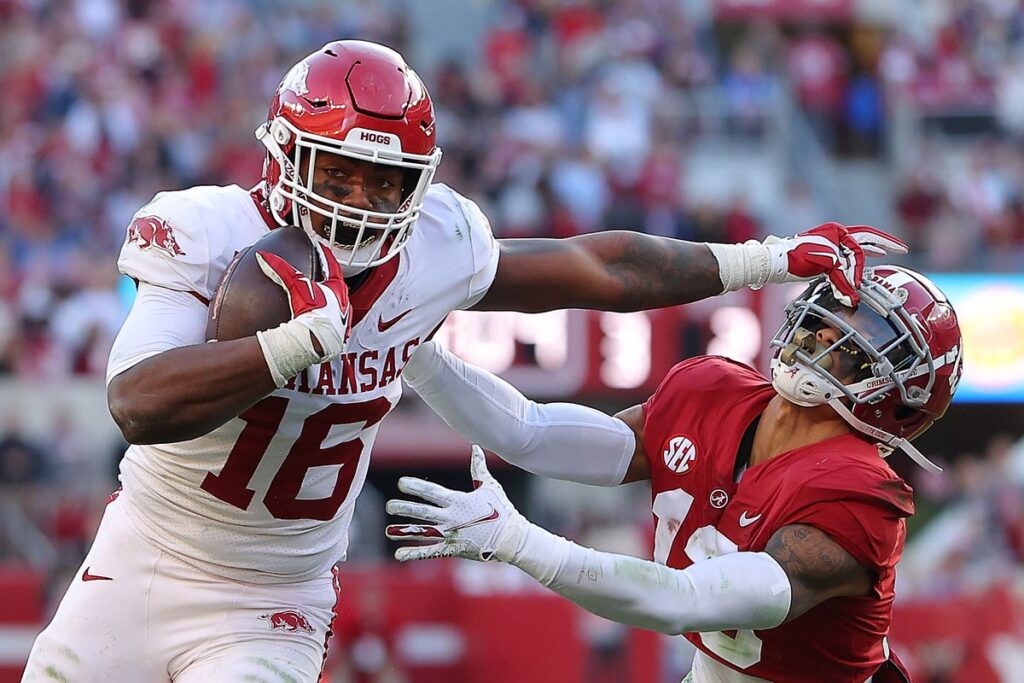 23. Arizona Cardinals- George Karlaftis, EDGE, Purdue
The Cardinals have a very balanced team, but they are going to need some edge help with the loss of Chandler Jones this offseason. I am not as high on Karlaftis as most but I do think he can be a solid prospect. I think unless there is a trade down, I don't see this going any other way then here.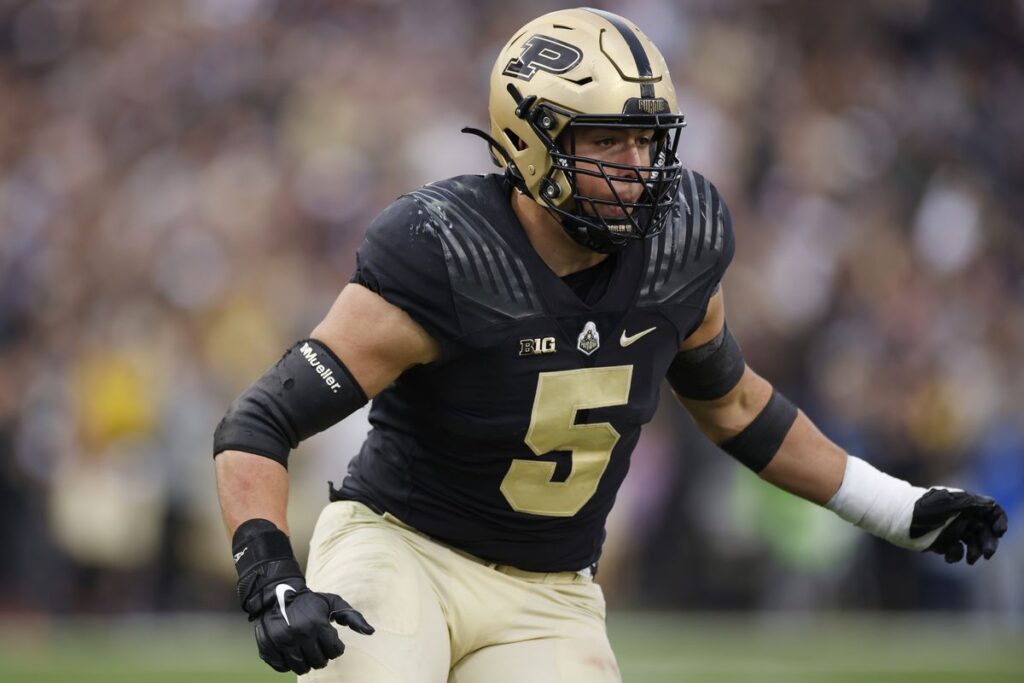 24. Dallas Cowboys- Zion Johnson, OL, Boston College
I know when you think about the Dallas Cowboys, you think of a great O-Line. Honestly it is not bad, but it does need some upgrades and some younger talent. Connor Williams left in free agency and Tyron Smith and Zack Martin aren't getting better. Johnson is someone I would love to see slip to round 2 for Chicago, but talent wise he is far too good for that.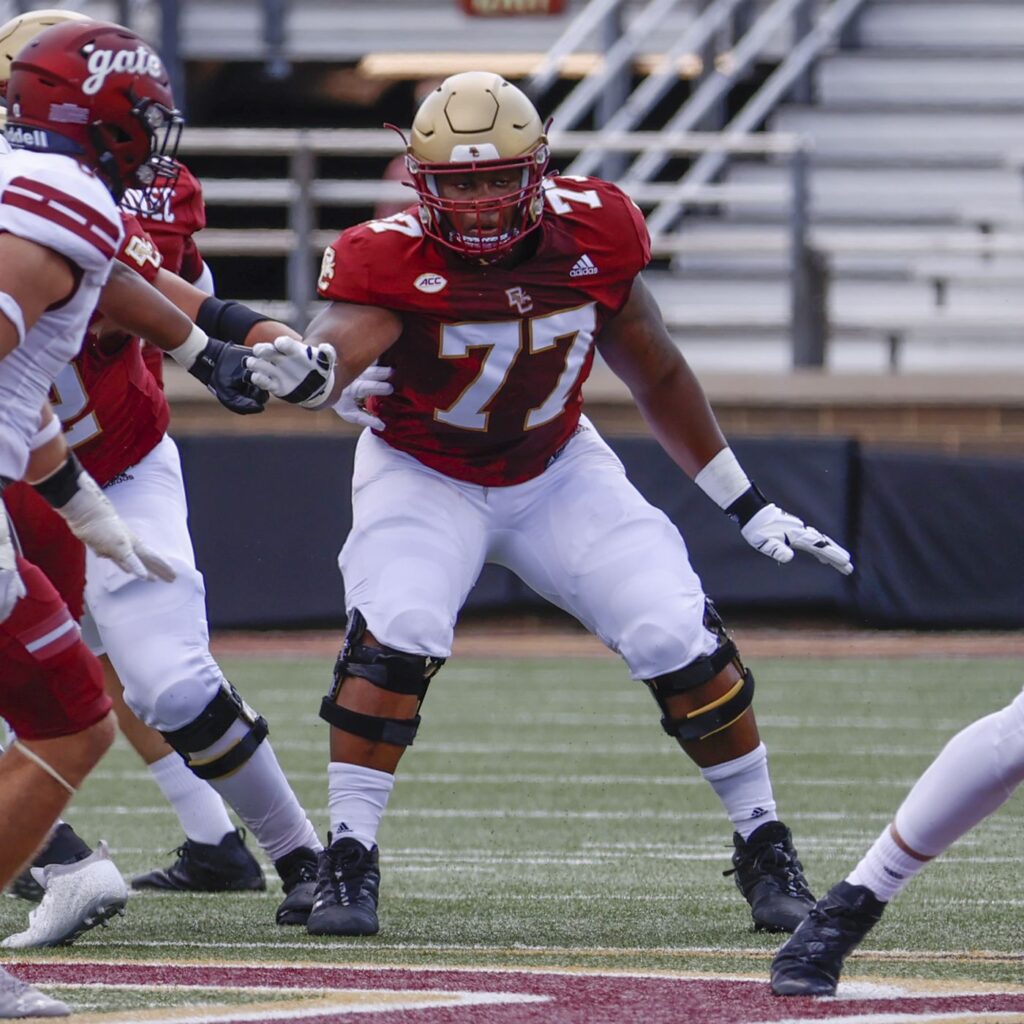 25. Buffalo Bills- Kenneth Walker III, RB, Michigan State
You probably think I am insane making this pick with Breece Hall still on the board. Call me crazy, I truly believe that Walker is the best RB in this draft. He is honestly my favorite prospect at the position since Saquon Barkley himself. The Bills don't really have holes, so it's hard to think of a specific position to go. Running back is a "weakness" for them though and adding a great back like Walker or Hall to that already great offense, paired with one of the best defenses in the league looks like a recipe for a great year.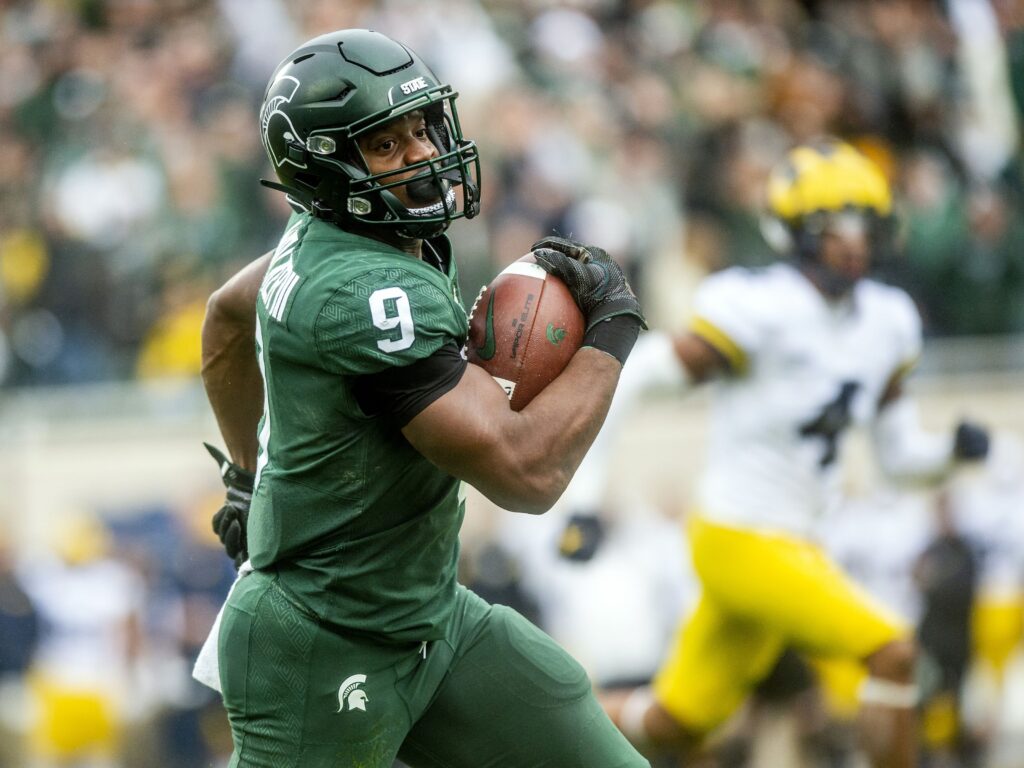 26. Tennessee Titans- Trevor Penning, OL, Northern Iowa
The Titans are an interesting one here. I could see them go QB, I wouldn't be surprised to see WR here either. The only reason I didn't go WR is because so many are off the board at this point. I could also very well see a trade down. Basically could go in any direction here. I ultimately decided on the O-Line, simply based on the fact that Penning is a great prospect, and the Titans love to run with Henry, doesn't hurt to get some better lineman for him here.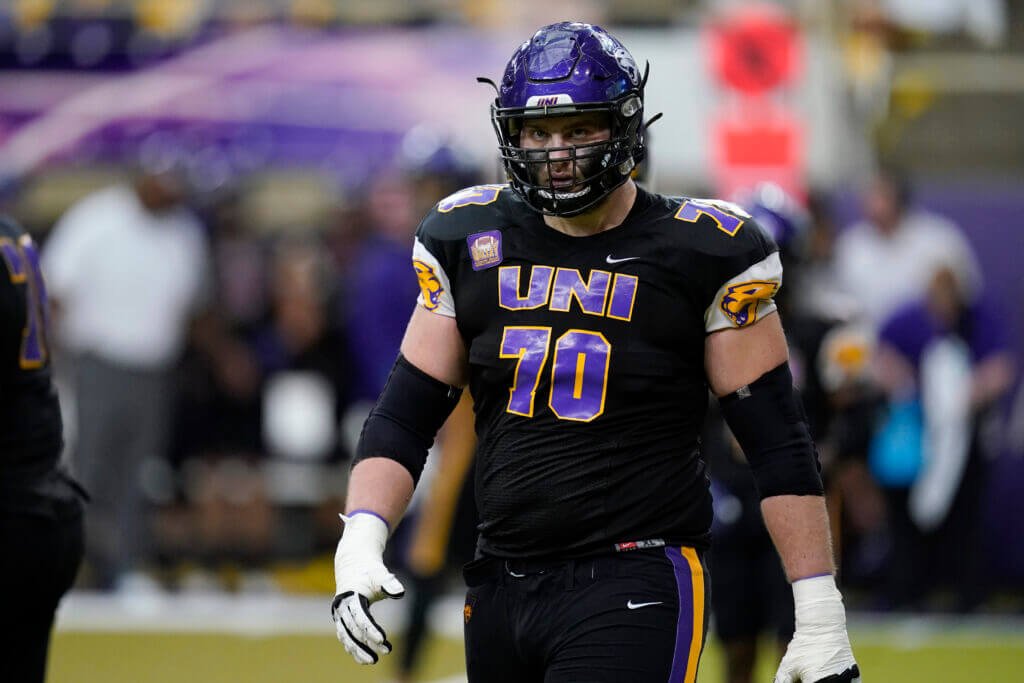 27. Tampa Bay Buccaneers- Andrew Booth, CB, Clemson
Andrew Booth is one of my favorite prospects in the class. Super athletic, debatably the best ball skills. I view him more of a Trevon Diggs kind of ball hawk, as opposed to a Jalen Ramsey true shut down. Which isn't a bad thing, I think that Booth can improve that defense and maybe help Brady get one more ring before he hangs up the cleats, if he actually ever does for more than a month.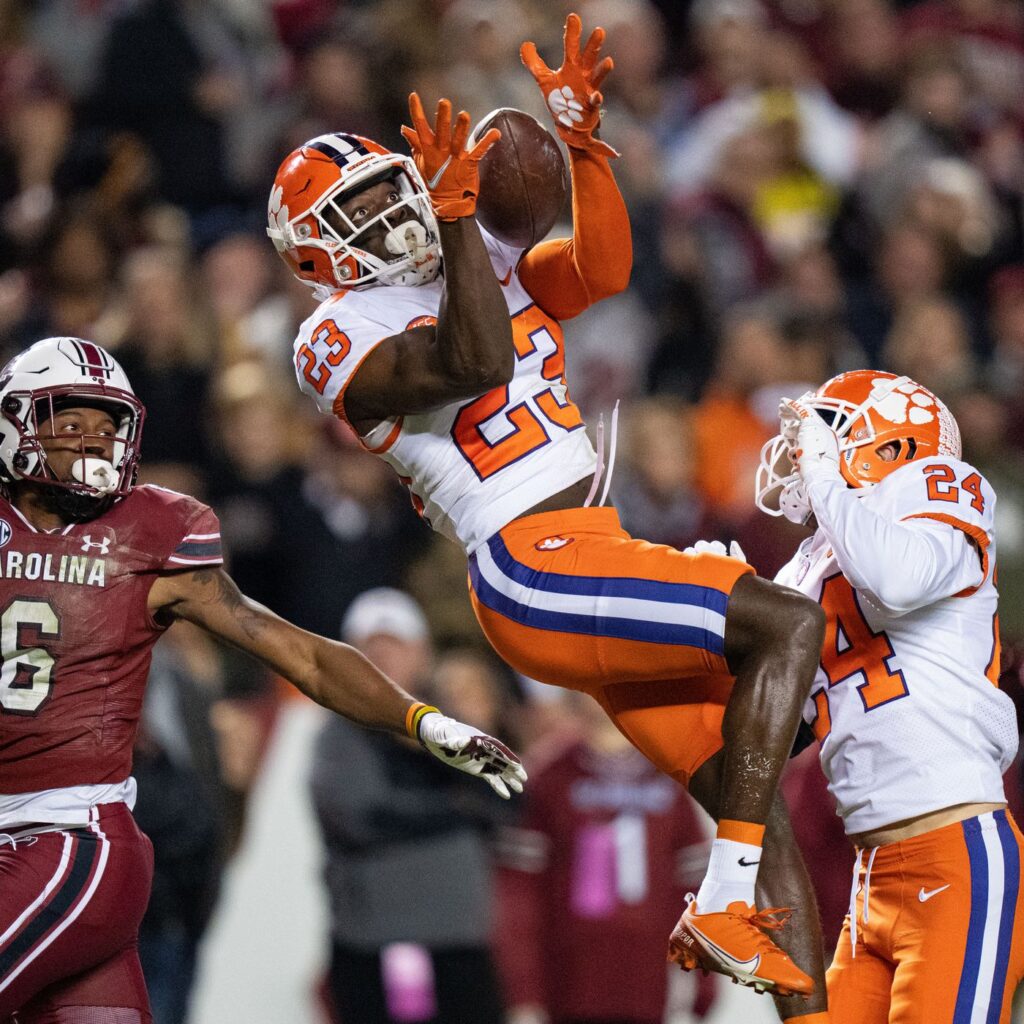 28. Green Bay Packers- Kenyon Green, OL, Texas A&M
I think the smart thing to do is actually draft people to help Aaron Rodgers succeed right now before the window closes. As soon as Rodgers is gone, it may be scary for Green Bay. They don't exactly have a backup plan. Yes, they have Jordan Love, but I refuse he will be anything other than a mediocre backup at best. They need to win now. Getting Rodgers a great weapon and pass protector with your two first round picks would be huge to keeping him happy and healthy.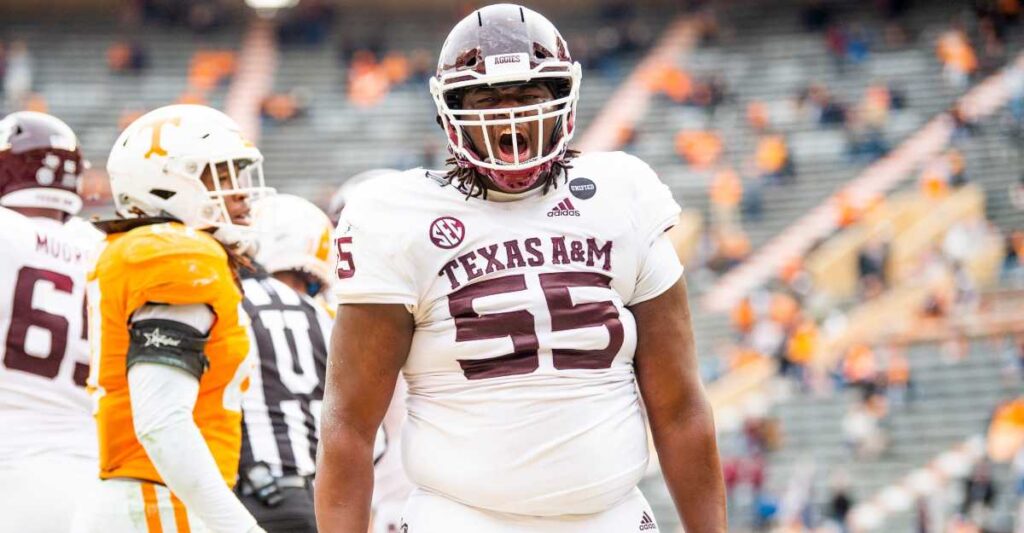 29. Kansas City Chiefs (From 49ers via Dolphins)- Christian Watson, WR, North Dakota State
I think that the Chiefs WR corps is better than people claim it is. With that being said, you can never have too many weapons. Watson has huge boom or bust potential and the Chiefs are built well enough to take the risk with the pick here. Could replace Hill well and become an entire different type of receiver that Mahomes would love.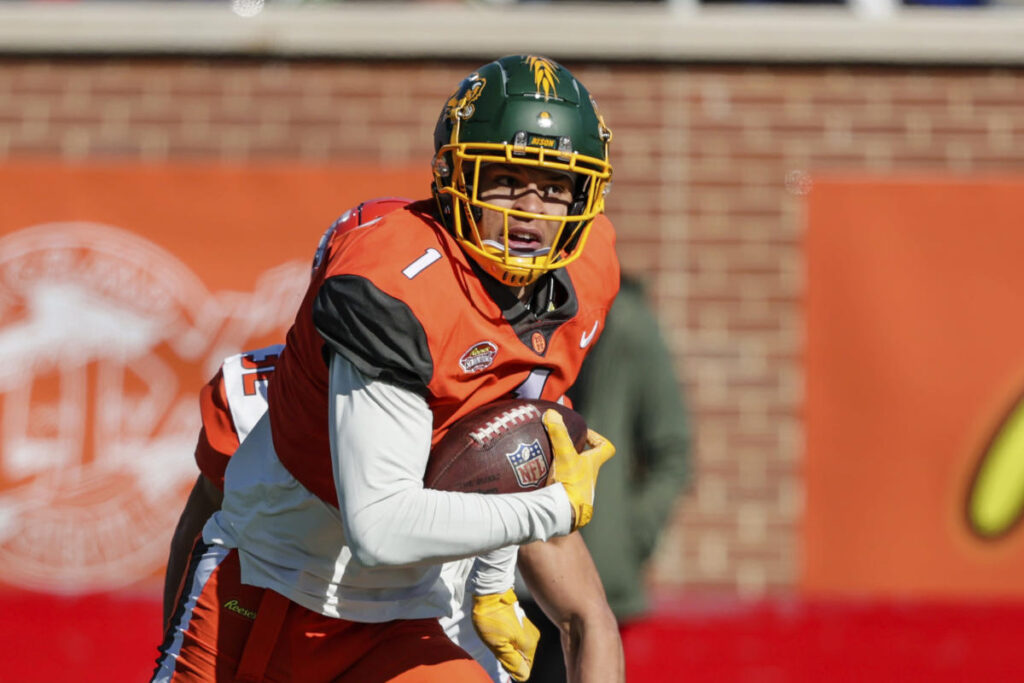 30. Kansas City Chiefs- Boye Mafe, EDGE, Minnesota
Kansas City is a great team, I could see them just using these picks on backups to take over for aging players, like a TE, or O-Line. In this scenario though I think they go with a good player to take over on the edge. Mafe is another player I would love to see slide for my own teams gain. With that being said I think this may be a match made in heaven for the Chiefs and Mafe here.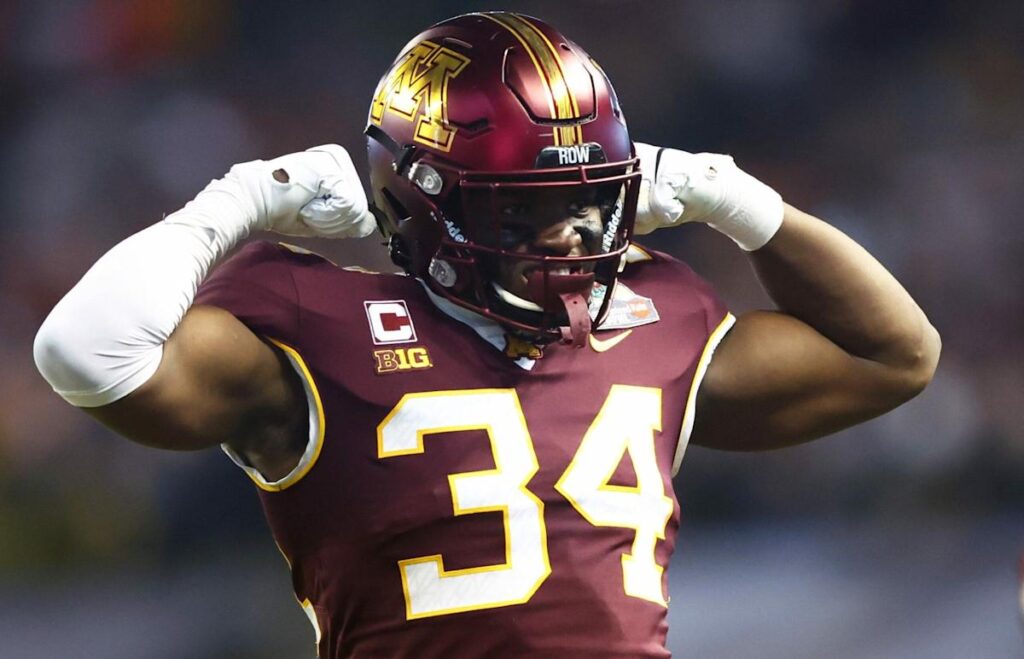 31. Cincinnati Bengals- Kaiir Elam, CB, Florida
More of a physical corner for the Bengals here. Elam is a strong corner that has risen up draft boards pretty quickly. I think he could quickly become a number one or number two corner for the Bengals here. I feel like they need an upgrade. Apple isn't the worst but at the same time, in the super bowl I think he showed that he needs to be upgraded to go against the top corners in the league.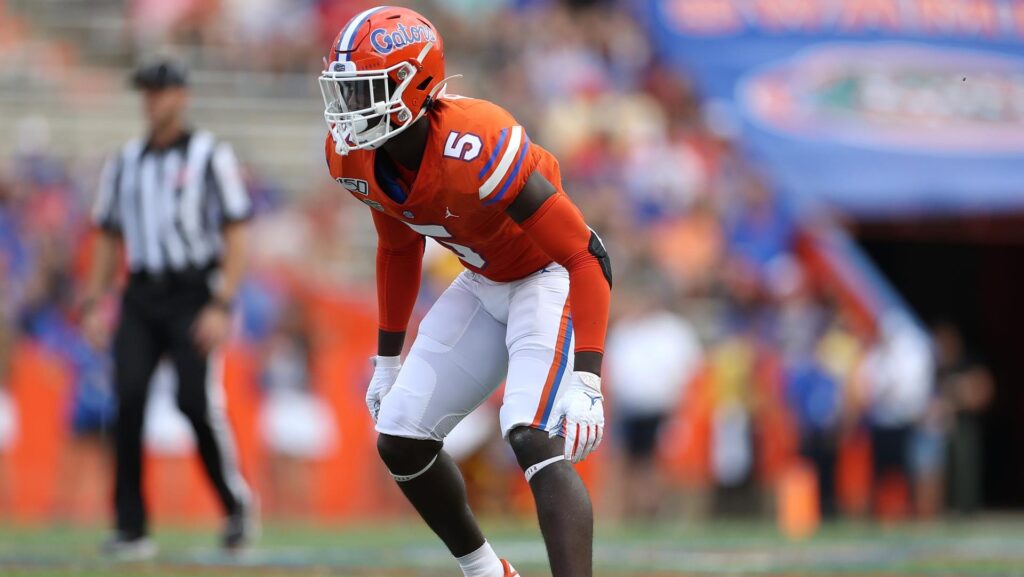 32. Detroit Lions (From Rams)- Matt Corral, QB, Ole Miss
I definitely see this as a trade down for a team wanting to trade up for a young QB, but since I said no trades, I have the Lions staying put here. Goff probably isn't the answer for a long term thing. I feel like the Lions are smart enough to know this and would get a good prospect to learn behind Goff for a while and eventually take over. Corral isn't a bad prospect but he definitely isn't pro ready. Learning for a few years may improve his career path drastically.